Yellow
From ActiveWiki
Yellow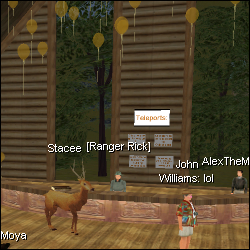 World of Active Worlds
Owner(s)
Founded

1995

Configuration

P2000 N,W,S,E ? Users

Rating

PG

Running?

✓

Website
Yellow or Yellowstone is a public building world that is owned and operated by AWI. Yellow world was created in 1995 by Circle of Fire as a virtual version of Yellowstone National Park in the United States. Yellow world is a nature themed public building world, and the world caretaker is Digigurl.
History
Yellow is a historical world, dating back towards the very beginnings of the Active Worlds Universe. The concept was introduced to Circle of Fire by Worlds, Inc., who approached them concerning a demo world for the U.S. Department of the Interior called the "Virtual Yellowstone" project. Work later began on the world, and it was released along with Void world in September, 1996.
Yellow was not originally a public building world, but it's new features such as custom avatars and day/night changing appealed to the community. Public Building would later arrive in Yellow and COFMeta, another Circle of Fire world, on December 8, 1997.
Yellow world had a vibrant community for a time; however by the time the early 2000s had rolled around Yellow had become critically outdated and was an unpopular world for building. The unattractive building environment had killed the community, and the world was essentially "dead" for several years.
It was not until mid-2007 that Yellow received attention again, this time adopted by Digigurl. Digigurl was tasked with bringing the world up to the times, and development of a new Yellow GZ, along with a re-structuring of the Object Path and world feature review took place in late 2007. The updated ground zero and world changes were released to the public on November 30, 2007, to much acclaim from the public. The grand opening party for the new Ground Zero exceeded 50 simultaneous users, a feat rarely achieved by public building worlds perhaps with the exception of
AWTeen
.
The yellow grand-reopening also featured a Cabin Building Contest, which ended on December 15, 2007. The influence of Yellow's resurgence may have best been realized at the 2008 Cy Awards, where the world won 3 Awards—Best Event, World, and Landscape.
Since the re-opening Digigurl has periodically held events with the support of her small staff and her efforts to revive the world have been generally noted as successful, with Yellow being one of the few consistently populated building worlds, following behind Alphaworld and AWTeen. Successful building competitions have taken place in the world, and the most recent of Digigurl's events is the Virtual Cancer Walk, an innovative type of event for the Activeworlds platform.
World Features
Yellow world is a nature-themed public building world, and its large Object Path contains an extensive listing of plants, animals, and other building materials for creating nature scenes.
Yellow is the testing ground for a global services bot developed by Dr. SquaiLboonT. Named "Ranger Rick" in Yellow, it provides global object seeding and "HotSpots", among other features intended for world administrators. Users needing to seed an object in the middle of an empty field can issue the verbal command "ap:seed". HotSpots allows users to create and issue verbal commands for easy teleportation. Verbal commands can be found here.
Notable Locations
External links