West Neophyx
From ActiveWiki
West Neophyx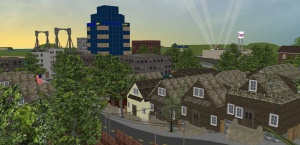 Community of Neophyx City
Location
Leader(s)
Founded

January 10th,2006

Population

?

Website

?
West Neophyx is a borough of Neophyx City in the world America. Built by John Mayor, West Neophyx has been founded in 2006 during the NC6 project's peak of development. It is also the one of the two boroughs alongside with Amersfort to be settled off the Neophyx Peninsula and the only one to be on the Michigans River's west shore area on America's mainland.
Transportation
Subway
West Neophyx has one subway station, Lincoln Hill Station, that links the borough to the rest of the city on the Line B (blue).
Roads
The borough is served by the Liberty Freeway (Interstate 2) and the Neophyx Freeway (Interstate 201) providing a direct link from the borough to downtown Neophyx via the Liberty Bridge (I2) and the Trans-Michigan Tunnel (I201) linking the borough to the Amersfort Island.
Neighborhoods
The borough is only divided in two neighborhoods by the Liberty Freeway - Interstate 2, being Lincoln Hill that composes most of the area and the Suburb.
Lincoln Hill
Being mainly composed of small urban bungalows, Lincoln Hill can be relatively considered to be a low density neighborhood compared to the rest of the city. There is one office tower owned by West Neophyx Corp, a small commercial sreet and an old fort lying right next to the Liberty Bridge where visitors can enjoy the view on the Michigan River. The neighborhood's boundaries are delimited by the Neophyx Freeway on the west and the norh, the Interstate 1 on the south and the Michigan River on the east.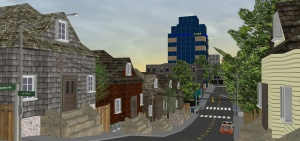 Suburbs and Wisteria Lane
This neighborhood is the less developed of Neophyx. The builds composing it can be easily enumerated. The neighborhood has a gaz sation equiped of a small convenience store, a retailing store (S-Mart) and a residential street that replicates the Wisteria Lane set from the TV show Desperate Housewives.