User:Demon Dog
From ActiveWiki
Demon Dog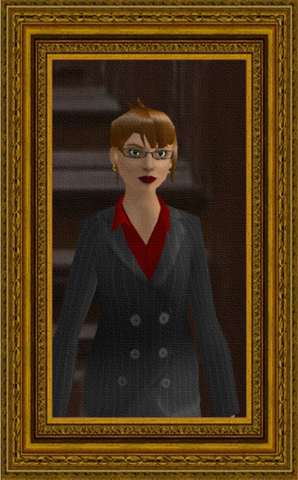 Citizen of Active Worlds
Since

4/16/2007

Citizen Number(s)

361606

Alias(es)

Demon Dog, Christian, Christy

Location

United States

Avatar(s)

"Cedric", "CAV"

Worlds
Builds
Website

None
About
Current Positions
Previous Positions
History
"Chris"
It all started mid-2005 when "Chris" was a wee lass at the age of 10. He was searching for alternatives to the famous Habbo Hotel, because he didn't like the idea of paying for things (still doesn't), when he happened upon Active Worlds. At first he was hesitant. AWGate was not greatly interesting, the people chatting on about things he could care less about, such as their cats. Regardless, he pushed on and teleported to the world "Hole" via the "Worlds to Watch" area in AWGate. He was fascinated by the things he could do in the world, and started building there.
After awhile, he migrated to AWTeen mid-way through the infamous b00nt reign, and continued construction on a boxing ring he found lying about. Said boxing ring was later destroyed by a citizen and paved over with bad building due to an unfortunate misunderstanding. This, however, would not get him down. Instead, he moved a mere 30 or so coordinates away and continued construction on an abandoned, vandalized city that had been laid to waste an unknown time before. He was assisted by people he had met 5 minutes prior, ChrisH993 and Unknown Tourist.
During various chatting on global, he met "Ylerta", who introduced him to Runemonkey12.
Chris4
On April 21, 2007, 1:24PM, young Chris4 asked his mother for a citizenship. She agreed, and from then on he became a citizen. During this time, he continued work with Ylerta (now citizen) and Runemonkey12. Aswell, he met Vectorman through Runemonkey12.
Snoops
Through an apparent misunderstanding, Chris4 became angry at Vectorman for a reason now unknown, and decided to build a rival TV studio on the other side of the mountain that USBN (Vectorman's) was at, named Snoops HQ. Despite its never airing a single show, Vectorman left Active Worlds soonafter and Snoops HQ became little more than land cover.
On April 22, 2007, he got back into the city business and began work on "Sky City", which was a city in the sky, of course. He was aided by: Ylerta, Phillip, Wonder Dog, Sok7, and Demon Wolf. During this time he also met Comaxes and Jimbo Jambo. Afterward, he left Active Worlds for awhile.
A few months later, he came back very sleep deprived for unknown reasons which was evident when he waged thermonuclear halo war against a citizen named Pit. and "Adam" for no apparent reason. He created an army of people to "fight", those being:Darkmonkey12, Mikey, Luxray, nicolae2k3, Scrotato, YLerta, Jackc45, Blood Chief, JP, GHOST aj, and Mr E Nigma. The "war" was ended rather quickly by request of the CTs for public decency or something of the sort. He later met Dash567, Arnold NYC, Ali., That One Guy, and various others. Long story short, roleplay was involved with them. He later passed out from eventual total sleep exhaustion and woke up a few months later.
Demon Dog
While in the JAM HQ of AWTeen 2008 GZ, Snoops was speaking with Demon Wolf. Apparently the sleep deprivation hadn't worn off yet, and so in an attempt to be funny he changed his name to Demon Dog. The name stuck.
Later, he met Club Alpha, and was offered a position in Googl, to which he quickly accepted. Then fired by GSK. Then re-hired by Club Alpha. That process went on about twice until GSK himself quit and Googl lived happily ever after.
In October of 2008(ish) he met shli and through her, Curtis. The world 'shli' was set up later on, and with it he met Xandrake, Desi., Larry141094, and GaileyGale. The slightly-older-than-young Demon Dog ran for Governor (CT) of the world against Larry14104 and Xandrake. And lost. Regardless, he along with Larry and Xandrake somehow all became caretakers.
Later on, he met nwasells, s e v e n s, AW, and various others. Demon Dog became Caretaker of Hangout (AW's world) quickly, aswell shli and Curtis. It was relatively short lived, however, as caretakership was lost and Hangout eventually died and expired.
Even more later on, he met Tsukasa, Jaguar Hahn, and Nina Taru during his expeditions with the building team of Phoenix Heights; shli's idea for AWTeen's community city. However, it fails (pretty badly) due to lack of interest.
He is then recruited onto the AWTeen Ground Zero building team led by Curtis. Somewhere during that, he meets Seiya and GSK(again). However, due to having a mental breakdown of the stress of it, he left the team and the entire Ground Zero pretty much just fell apart for various reasons.
He then enters EBTS_III and met several different people, and a month later, received 6th place and V4 rights in Yellow. Then replies to a post of Poseidon's on the forums and gets recruited onto the AWRPG building team, then was apparently fired a short time later. After these successes, he decides to enter the AWI Gamefest tournament, however at a very unfortunate consequence, his game becomes rendered unplayable due to weird resolution problems.
He then enters the "Just Ask Me" program in AWTeen, meets Brock, and is placed on the Green Team and builds an HQ for that particular team. He then resigns, gets rehired, gets fired for stupid rules (which later gets the CT in question in trouble), gets rehired again, then promptly fired along with everyone else due to reformat of the JAM program (GSK and Sevens is to blame). He then failed the new JAM training. Three times. Which is weird considering one of the trainees got the test dummy to mute her and still passed.
Months later, Moxie!!! is renamed to Moxie after Brock renews the world. Club Alpha is up to shenanigans with the AWLD privilege password which Demon Dog sadly gets sucked in to. He then gets banned from AWTeen (quickly undone by Flagg), and Club Alpha gets unibanned unable to return for a set amount of time.
Sometime during this, he has met: Xooki, Bradly, Kitty Kat Kelsey, Xx WildChild xX, Lusie, Angel Pikachu, Pandaboy, CellMaster, GC, Gen. MetalSonic, DJ Razgriz, Wolf Lucksworth, darkreddragon, PehJota, Eric John, Hitomi Fujiko, KoL, Legion, Arnold NYC, Cloggedone, Jen2009, Afro Zombie, VLadamire, and Father.
Curtis returns after a long unrequired absense(due to Demonstalking) and as such Moxie rejoices at being used again.
~to be continued~