User:NobleClock
From ActiveWiki
NobleClock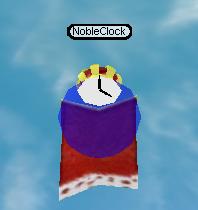 Citizen of Active Worlds
Since

12/12/2006

Citizen Number(s)

361193

Alias(es)

NobleClock, NobleCakes, NobleCock, NobCock

Location

Melbourne, Australia

Avatar(s)

Gnu-NobleClock

Worlds
Builds
Website

?

Your very own annoying blip on the radar!
NobleClock's Bio
This name, and everything surrounding it has been ditched by the user.
Official Positions
Current Positions

Former Positions
AWNewbie Watchkeeper
TeenGate Contributor.
Annoying Blip on the Radar
AWFX Particle Expert
AWTE Member
KorthRPG Builder
Joint-Governor of NewCity (Pretzel Stick NC, Ohioman)
Occasional GCTV Host
GCTV Ideas, Management and Building
Commandeerer of Shoes
Former JAM Leader
Former JAM Red and Green Team Leader.
Former JAM Member
Former Teen Patrol
Former AWTE Member
Former AWTeen GZ Building Member
Trivia
NobleClock is no longer NobleClock