User:Lord Perception
From ActiveWiki
Lord Perception
Citizen of Active Worlds
Since

?

Citizen Number(s)

?

Alias(es)

?

Location

?

Avatar(s)

?

Worlds

?

Builds

?

Website

?
About
Lord Perception was actively involved with Active Worlds from 2000 to 2003 as an AWI Public Build World based Builder where he spent 3 years engaged in various building project within AWI worlds such as Alpha World (AW), Yellowstone (Yellow), Active Worlds Teen (AWTeen). Projects included the construction of individual dwellings, assisting in the creation of towns (Alphasville & Phazaria), establishing a sub-community (within Horizon City) and larger scale projects such as his personal kingdom, The "Eastern Kingdom" situated in the AWTeen world
For much of his Active Worlds' life, Lord Perception deliberately aimed to maintain a low profile preferring to keep well away from controversy and internal community politics reflecting his largely conflict averse nature and subsequently strongly resisted attempts by others, who were looking for support, dragging him into heated exchanges that were occurring between other citizens over issues that he felt absolutely had nothing to do with him.
Lord Perception near the end of 2003 went on a 3 year hiatus away from Active Worlds to begin focusing on other interests and personal projects. He returns to Active Worlds briefly from time to time.
Style of Construction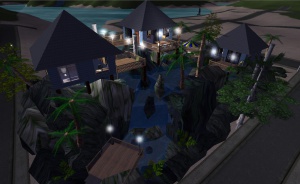 Lord Perception's building style was based off the style of construction used around the then new, Auckland Eastern Suburbs' housing subdivision he resided in with his parents at the time. Key features included those which could be regarded as typical in "McMansion" style dwellings including Masonry / railed fences, Gates, Grand entrances (containing Columns), Quoins and "Great" rooms.


Landscaping was another area Lord Perception showed an interest in and he was liberal in his use of waterfalls, rocky rivers, water features and vegetation surrounding larger building projects including in and around the Eastern Kingdom. Much of the larger scale landscaping projects that surrounded his buildings resembles New Zealand's Lush bush land and tropical rain forests as found in Queensland, Australia.


In contrast to his neighbours' houses, the House Lord Perception lived in was largely sparsely furnished with only basic furniture and multiple rooms within the house he lived in lay empty and unfurnished for years. This subsequently showed out in Lord Perception's own building style where he often built houses with very little in the way of furnishings and this was perhaps the main criticism leveled at Lord Perception's work. Other mentioned aspects included the overzealous use of lighting in some buildings, 'lag', and rigid uniformity. "...Oh and the swimming pools? Rectangular, all the same depth, and always with the same tiled water texture. The palm trees? All exactly the same, placed on a perfectly even grid." [1]
Projects
Participation in Towns within Alphaworld.
Alphasville
Mayor: J o s h
LP's Role: Construction and city promotion

PhaZaria
Mayor: PhaZar (Keith Thomas)
LP's Role: Public Amenities Construction

Horizon City
Mayor: sirQus
LP's Role: Sub Community Management


Participation in aPokemon
World CareTaker: Prof Oak
LP's Role: Building

In late 2000 upon visiting the AWTeen world, Lord Perception acquired large parcels of land within the vicinity of AWTeen Ground Zero and built some initial structures which were never completed. In Early 2001, he proceeded to use the land and built a number of large structures including "Aotearoa House" (in the style of a contemporary city hall) and a commercial office block on the land. He later used some additional land to build AWTeen Central bus station. The buildings have since been relocated to an area just south, outside of AWTeen Ground Zero.
The Eastern Kingdom was perhaps Lord Perception's most ambitious project. The Eastern Kingdom was a solo project intended to serve as Lord Perception's private getaway retreat within the Active Worlds' Universe where he could spend time to himself to experiment and build in privacy. The Eastern Kingdom started out life as "Aotearoa Island" in Alpha World and later as "ParkHaven" when it was moved to AWTeen and now covers approximately 7 square kilometres. Although the move from Alpha World to AWTeen was made towards the end of his teenage years, he selected the AWTeen world for its perceived flexibility and advantages that it had over Alpha World at the time.