User:Lady NightHawk
From ActiveWiki
Hello from Lady NightHawk!
Lady NightHawk
Citizen of Active Worlds
Since

May 7, 2003

Citizen Number(s)

351831 & 352682, plus two other *secret ones* :o}

Alias(es)

LNH

Location

USA

Avatar(s)

SistaAVs

Worlds
Builds
Website

?
I have been a citizen of ActiveWorlds since Wednesday, May 7, 2003. I was a tourist for about three weeks before that. Within two months of becoming a citizen I won my world Aeon in Bingo for a trial two months, naturally I quickly went to work building and was hooked enough within the two months that I had to *keep the world*. My husband (and best friend), AerHawk, is co-owner but he doesn't visit much. CTs in my world are Lady & Lord HardDriven. Aeon started out as a P20 trial, when I purchased it I expanded it to a P30, and just last year (2006) I expanded it again to a P50. The one main thing I remember about my tourist days was *feeling dizzy* for a few weeks while I adjusted from 2D to 3D :o}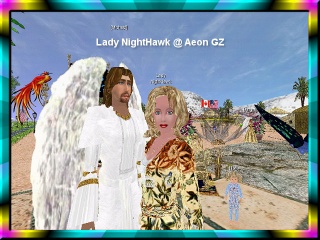 My world Aeon has several areas to visit, aside from GZ, here are some of the main attractions and the teleport coords ... Dwagons' Rock Tour Area (45m up) 8.592n 9.394e 45.00a 26° or Enchanted Treehouse 25.220s 16.805e 0.10a 203.0° or Hawk Castle 25.95N 37.50E 0.00a 0° and Mystical Forest 20.45S 12.95E 0.01a 139°. There's so much more to see but you can get to all of it from Dwagons' Rock! And yes, Aeon IS mover, voice chat, and PAV enabled! Aeon also welcomes tourist! Why? Because I was a tourist once too!
Of course, in my earlier citizen days before I owned my own world, I needed somewhere to build and practice, and since AlphaWorld IS the largest free building world, that was the next step in my active participation. I have one main build in AlphaWorld at aw 598.210s 395.260e 0.00a 46.0°, I have another *reserved* area in AW with nothing built on it at aw 15335.76N 15326.00W 0.02a 117°. I also have a birthday builds area in AW for which I no longer maintain but it is historical, you can visit that area in aw 5571.46N 5336.30E 0.00a 180°.
As far as AW community involvement goes, I was a GK (Gatekeeper) for over three years and during the latter part of my service I was a TL (GK Team Leader). I have also volunteered as an AW Tour Guide and as a Teacher for AW University. I have been part of the AW Birthday building community and left many gifts for others in AW, too numerous to list here. I have also been a recipient of many wonderful birthday gifts for which I thank all who contributed! I have also maintained a citizen birthday website *event list* and still do ... so I've served AW and it's citizens & tourists in many ways over the years!
I've tried all kinds of other *eye candy* chat/community programs in both 2D & 3D format, as well as regular text chat ... I truly love AW for what I can do as a user. For me, AW is an artist outlet. While in 2D chat I learned how to make 2D avatars and to even create my own, but that has been next to nothing compared to learning 3D modeling and now avatar creation.
With my avatar making partner, Lady HardDriven (LHD), we have been making our own style of 3D avatars and we go by the name of SistaAVs. We even had a world by that name for a year, maybe it was two, but we found it really wasn't needed and not worth the extra expense since Lady & Lord HardDriven own Anduin world and I own Aeon world, for which we are there most of the time working on our avs anyway. SistaAVs has a website, you can visit it at http://sistaavs.dwdc.net/web/index.html and Aeon also has a website at http://aeon.dwdc.net/web/index.html, there are free things to d/l on both sites so have a look! LHD & I (LNH) affectionately refer to each other as *sista* but we are cyber sisters, not RL sisters ... although you would probably never know it LOL
All of the avatars seen in the pix above were made by us, kewl eh! :o} We make regular avatars for sale, and now we are *Authorized PAV Vendors*, meaning we are authorized by AW to make you a Personal_avatar for use in any AW hosted world. You can even use them in many privately owned worlds! Our regular avatars & PAVs are selling rather well. We are also working on our own line of Skinned_avatars ... we'll be taking some of our PAVs and converting them to one body (not jointed like rwx are) and then adding bones. I will likely be doing the bones part myself, in Blender, a yet-to-be work in progress (WIP) so stay tuned :o}
Come visit us and our avatar creations in our PAV display area in Aeon at 48N 48W, currently this is also where we are hanging out and testing. I soon plan to build a mirror room somewhere in Aeon where you can try on the avatars & PAVs and see yourself from all angles, in the meantime most of our avs & PAVs are on the Avatar list in Aeon world. Be aware that Aeon GZ can be a long download wait, the world is *fully packed* to about P30 and I have room to grow since expanding it to a P50 last year.
Be sure to telegram me if you are in need of a PAV ( Personal_avatar ) but please also visit SistaAVs website to view our *Terms of Use*, and for a preview of our current avatars & PAVs. Also, please be sure to read the signs where you land in Aeon PAV display area for more information :o}
Thanks for reading!