User:Curtis
From ActiveWiki
<enter>
C u r t i s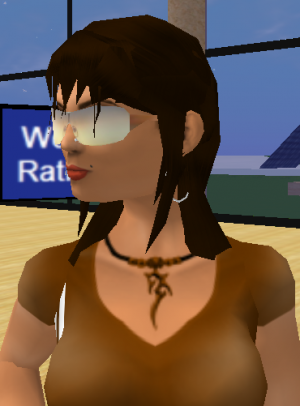 Citizen of Active Worlds (universe) && DotSoul (Universe)
Since

Sept 18th 2008

Citizen Number(s)

Activeworlds 364225

AWEurope 7600

StagecoachIsland 29896

Alias(es)

Christine

Location

Toronto

Avatar(s)

Custom Avatar

Worlds
Builds

Anything by Demon Dog

Website
Skankyhoe of Easystreet
Skankyhoe of Easystreet
Skankyhoe of Easystreet
Skankyhoe of Easystreet
Skankyhoe of Easystreet
Skankyhoe of Easystreet
Skankyhoe of Easystreet
Overview
DOB FEB 8 1992 (17)
AW name "C υ я т i ѕ"
Work with AWteen
Current Positions
Ground Zero Building Team
AWteen Events
AWteen Entertainment (AWTE)
Previous Positions
AWteen JAM Guide
Street Hoe *
Building Style
Lights, Lights, Lights! :D
Brick. I love brick. I hate siding :X
Orange and Red -- Something that isn't easy to apply, so I apply it in hints.
and of course with music. Atm Roxrox has me hooked on some Industrial stuff :3
Cha Sockets
These "sockets" make out of two xckr1'rwxes (Usually textured to metal10) have multiple uses, such a holes for wires.
Xiorae City
Subject to rename, A city located in the highskies. Violet Toned Futuristic City of the year 3112 which deals with the effects of the disaster from Exlided Snow, which is a chemical based snow that basically killed the earth to the extent you need to be high up in order to feel the effects of the sun.
Buttons
| | |
| --- | --- |
| | This user strongly dislikes "txtspk" and would prefer if users speak with proper grammar. |
| | |
| --- | --- |
| | This user is usually seen with a preston bot following them around. |
| | |
| --- | --- |
| | This user prefers to build alone. |
| | |
| --- | --- |
| | This user builds or resides in AWTeen. |
| | |
| --- | --- |
| | Be it insanely big or inanely small, this user enjoys building things in obnoxious scale. |