Tray Icon
From ActiveWiki
Tray Icon
When starting the ActiveWorlds 3D Browser version 6.0 build 1313 and later, an icon appears in system's tray. The idea behind this icon is to allow parts of the ActiveWorlds application running, to stay connected with your ActiveWorlds contacts, even while not interacting with the world or 3D content.
Clicking the tray icon hides the ActiveWorlds browser from the desktop.
Clicking the tray icon again, brings the ActiveWorlds browser back onto the desktop, and puts it in foreground.

Further features include:
Short list of online contacts.
Selector for online state: Show Online, Show AFK, Show Offline.
Option settings for:
Minimize to tray.
Close to tray.
Unload 3D scene while minimized to tray.
Notify on telegram.
Notify on chat phrase.
Notifications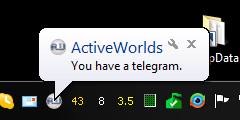 The tray icon also displays notifications, for e.g. received message.

On Windows Vista and later, notification timers and detailed behavior follow the system's accessibility settings. On Windows XP and earlier, the timer is set to 20 seconds display before fade out. When using default accessibility settings with Windows 7, for example, the notification will remain onscreen even while you're away from keyboard and mouse. Once the system encounters keyboard or mouse input, it will trigger the notification timer, not before that event. On Vista and later, a notification comes with a 'tool' symbol. Clicking this tool symbol opens the system's setting for notification icons.
Icon States
Contact View & Context Menu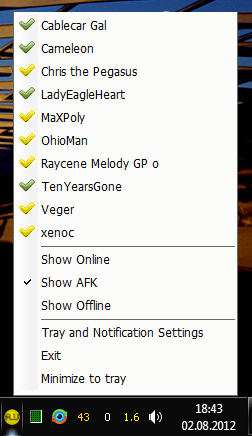 Right clicking the tray icon brings up an overview of your online contacts.
A green check mark means the contact is in online state.
A yellow check mark means the contact is in AFK state.
Clicking on contact names brings up the ActiveWorlds browser and shows the tab with the complete contact list.
Your own online state can be selected below by Show Online, Show AFK and Show Offline.
The tray icon's context menu is always available, even when the ActiveWorlds browser is hidden, in background, minimized to the task bar or minimized to tray.
The Tray and Notification Settings menu item brings up a configuration dialog, to adjust detail behavior (see below).
Select Exit to shut the application down.
Select Minimize to tray when the application is running and shown, and you want to hide it from the desktop.
Select Show application when the application is minimized to tray, and you want to show it on the desktop.
Tray and Notification Settings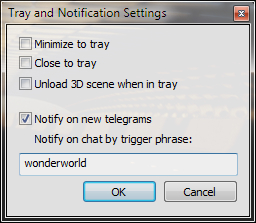 Checkmark Minimize to tray to hide the application from desktop, whenever it gets minimized to taskbar.
Checkmark Close to tray to hide the application from desktop, whenever the close button in the title of the application is pushed.
Checkmark Unload 3D scene when in tray to free additional resource whenever the application runs in the tray only. This will reduce the visible range to zero while running in tray. Terrain, ground and world water, as well as avatars, will remain available.
Checkmark Notify on new telegrams if you want to get notified whenever a new telegram messages arrives.
Enter a phrase for Notify on chat if you want to get notified whenever a certain phrase is used by other users in chat. Note, that this does not include possible console messages that might be used by bot relays.
About Contact List and Online States
As online states can be set individually for every contact, with Hide online/offline/afk status from the contact's context menu, you may select Show Offline yet still appear online to selected contacts and vice versa.
If you added yourself to the contact list, the application is smart enough to know you are online even if Show Offline has been selected, unless Hide online/offline/afk status was selected explicitly for yourself in the contact list.