TheBeans
From ActiveWiki
TheBeans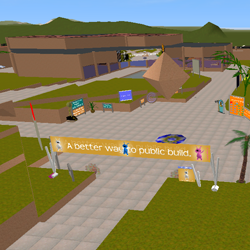 World of Active Worlds
Owner(s)
Founded

2002

Configuration

P150 N,W,S,E 20 Users

Rating

PG

Running?

✓

Website

?
TheBeans is a public building world owned by Bluebean and maki. It was among the largest privately-owned public building worlds, and featured an object path and building area unique to the other worlds. TheBeans won a Cy Award in 2004 for Best Community.
Building Environment
Building in TheBeans is generally unmoderated, although the world owners ask that builders keep a PG rating in mind and follow the AW content and conduct guidelines. Builders can freely build in open lots, but open areas away from streets and roads are specified as off-limits. A full listing of world policies can be found here.
TheBeans offers large building lots and unique environments to build in, which provides a welcome change in scenery for builders used to the flat plains of Alphaworld and similar worlds. The entire world is a large terrain island, with varying heights and area themes.
Hubi
The Hubi was an avatar originally created by Ananas. The avatar was discovered by TheBeans world owners, and was edited to be available in a variety of colors. They have since become a staple of TheBeans world as popular avatars.
Notable Locations