Teleport Maze
From ActiveWiki
Teleport Maze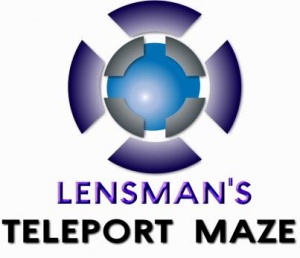 Maze
Location
Size

N/A

Builder(s)
Lensman
's
Teleport Maze
is a unique puzzle within the
Active Worlds universe
. It consists of 500 stations on several worlds, though predominantly on
AlphaWorld
. It's entry point is located at Alphaworld 4000n 10000e.
The maze took 5 years to build. Each station has 5 signs each containing a teleport command. The station sign, on any station, when clicked takes the player to the starting point of the maze. The others signs are oriented north east south and west each taking the player to another station. The object of the maze is to arrive at the master "Key" which is a build wherein may be found teleports to all of the stations.
Solving the maze requires the player to chose the right teleports (N, E, S, W) to arrive at the "Key". The Maze serves two purposes. The first is to take player to builds they would otherwise never see. Most of these destinations are exceptional builds. Other stations, and the second purpose, encourage building. These stations are located in the middle of nowhere and provide a seed for development. The Teleport Maze, because of its construction, is cheat proof and quite possibly the most difficult of all the mazes in Active Worlds.