SpellChecker
From ActiveWiki
Spelling Checker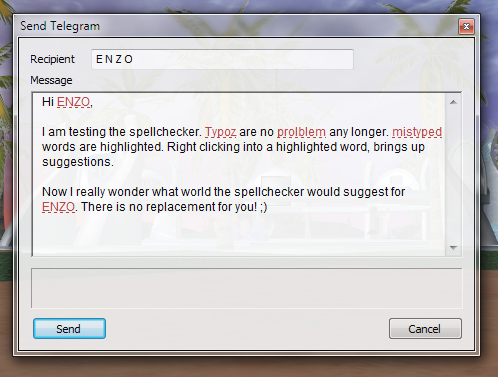 Starting with version 6.0, build 1309, a spell checker is integrated into the browser. The usage is pretty straight forward. The language configuration for it can be found in the advanced settings, below the language selection for the user interface.
Multiple Dictionaries
Notable is that you can configure 2 different language dictionaries. The spell checker will look into the alternative dictionary only, if the word was not found in the primary dictionary. Using two simultaneous dictionaries probably does not make sense with all combinations of languages. Nevertheless, it may be helpful for you, if you are used to talk/type in both languages.
FAQs
Where do I get a dictionary for my language?

A collection of additional dictionaries is available here. It includes Dutch, French, German, Hungarian, Portuguese, and Spanish dictionaries. If your language is not within this collection, look at the Open Office web pages and search for them.

How do I install a dictionary?

A dictionary consists of two files. One has the extension .aff and the other needed file has the extension .dic. The file names look like en_US.dic and en_US.aff, where en stands for English, and US is the region the language described in the dictionary is spoken. Copy both(!) files into the <Active Worlds>/default/hunspell_dict folder. This is the place where the program looks for dictionaries. The program will display the basename of file, e.g. fr_FR for the French dictionary.
Hunspell
Many thanks to the Hunspell developers and the Open Office community, for making spell checking available to everyone. Many applications and also operating systems, like Apple OS X, Mozilla and Chrome web browsers, Open Office and LibreOffice, to name a few, have integrated Hunspell. If you're interested, you can find more information and links at the Hunspell developer site, or at Wikipedia.
The licence files for Hunspell and the licences for the provided dictionaries, come with the Active Worlds installer and can be found in the <Active Worlds>/default/hunspell_dict/licence folder.
The Active Worlds browser has integrated Hunspell as a static link library in unmodified form AS IT IS, retrieved from the Hunspell developer site at sourceforge on July 3rd 2012.