Sokiland
From ActiveWiki
| | | |
| --- | --- | --- |
| | Sokiland | |

— City —

The first city of the Commons

Flag
Seal
Community of Alphaworld
Location
10255n 10029e
Status
Inactive
Type
Historic-City
Population
4 (until Dec 2001)
Now uninhabited
Founded
May 5th, 2001
Leader(s)
Nyxboy
(Then named as Buga)






Sokiland is the first city founded and built by John Mayor, then named Buga, in the Les Cités Area in the southernmost region of Greenmeadows. The city still remains at its location in the exact shape it had when left by its inhabitants and is now a ghost town. Sokiland has been built in parallel with 4 other towns in 2001 that are now composing the Les Cités Historic Area. It is the largest and densest city of the territory.
Sokiland's signage, texts and their residents as well were entirely bilingual in French and English.
History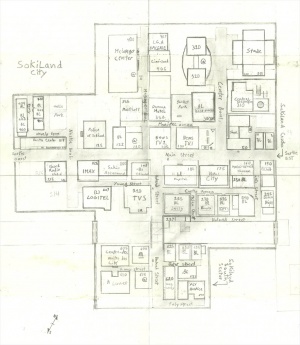 In 2001, when Buga just arrived in AW as a tourist from LeVillage3d, him and a small group of people founded a small community of towns, La Communauté des Cités, in a remote area of Alphaworld. This community was composed of Sokiland founded by Buga, Aftercity founded by Afterlife, Sunnydale then renamed Suncity founded by Roi Niko, 65 founded by Spectrum 65 and Sandshine founded by Garfield 1. As most of the group was composed of french canadians, most towns of the community made their indications in french while Sokiland had a more bilingual system.
Sokiland and most of its neighboring towns kept a high level of activity until the end of summer of 2001, Sokiland remained relatively, but moderatly, active until December, 2001. From that period, all towns of the community became completely ghost towns. In 2002, Buga then renamed Nyx made a few come back visits while he was then progressing in Daliaxy in attempt to give the city some more improvements and create some links between Sokiland and his then new city but gave up after a few visits. The city had been completely inactive since.
Preservation Plan Fall 2009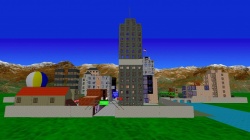 Nyxboy had studied many possibilities to preserve and save the city that remained unprotected since its very begining, as all its structures were build as a tourist, but all attempts failed until then.
In 2003, a first demand to the AWHS was sent but has been refused as the city wasn't considered old enough. Since the organization became defunct Nyxboy had to look for other options.
In August 2009, Nyxboy started to study more intensivly to find solutions to preserve a tourist built city that has, until then, survived 8 years without any vandalism, thanks to its remote location.
In september, the city has been examinated in order to collect the original objects building dates throughout the area. The foundation of Sokiland has been determined to be May 5th 2001.
On November 18th 2009 at 19h00pm, the city of Sokiland has been officially transferred under Nyxboy's citizenship with the expertise of Karten and one of his bot, and thus finally became protected. The new dates displayed on the entire site is now identified as Wed. Nov. 18, 2009.
During the same day, Nyxboy's identified Sokiland as a historical site and started to enhance the area for future visitors. A highway circuit, Les Cités Beltway, has been built around the main part of the community surrounding the city to give the area simplier connections to unify more the towns togheter since freeways, large roads and boulevards doesn't exists in the community and as many towns of the area have most of their local streets not coinciding with those of the next town. Also Les cités highway connects the beltway to the major Alphaworld highway network. What first was a remote and isolated developed zone is now well linked to the rest of the world.
10th Anniversary 2010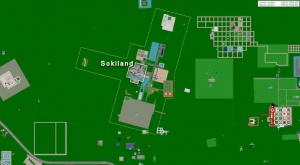 During May of 2011, the city celebrated its 10th anniversary since its groundbreaking and foundation in May 2001.
Population
Sokiland had a population of 4;
-Buga(now Nyxboy),
-Jessy(later renamed Gezko) - Who also assisted Nyxboy in America(2001) and later with the construction of Daliaxy until 2003,
-Caro - Also assisted Nyxboy in America in 2001(last time in AW),
-Bianka - (Nyxboy's sister) Never came back to Active Worlds since.
Companies
Some of the compagnies in Sokiland include; The Blue Bank, TVS(also Sokiland's tallest building), Logitel Communication(has been reused in Daliaxy and is still in use in Neophyx City), Soki-Assurance, MultiSoft and Ciné-Sand.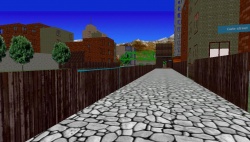 See also
Sedan - A populated city from a tropical archipelago.
Daliaxy - A dense city that existed in the galaxy of Newfoundland from 2002 to 2003.