SW City
From ActiveWiki
SW City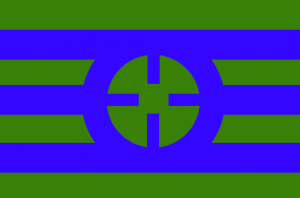 Community of AlphaWorld
Location
Leader(s)
Founded

March 24th, 1999

Population

~250-300

Website
SW City is the term used to describe all territory that is owned and operated by SW City Productions. It is currently the largest community within Alphaworld. The current mayor is Syntax, who has been leading the town since SW Comit's resignation in 2002.
The region as a whole is made up geographical areas that are in, on, or connected to the Irenic Ocean. Since is founding in 1999, it has grown from a virtual "town" created by members of a gaming clan to a well-developed virtual environment with an expansive and detailed back story and fictional universe of its own, the setting for the MMO game SW City Interactive.
Fictional Setting
SW City is a part of Alphaworld, a whimsical, anarchic, yet relatively peaceful world. SW City is one of the few bastions of organized civilization, although the influence of the lawless territories around it has caused its government organization to seem quite lax compared to the rest of the galaxy. Alphaworld and SW City have a history of frequent asteroid collisions, and is one of the root causes of its broken civilization. Despite this burden, and inspired by a fight for survival, Alphaworld's technological level advanced quickly.
SW City first made contact with the rest of the galaxy in 1994. It's space-faring ambassadors, the CoF, ushered in an age of modern technology, dealing with large corporations due to the lack of government bodies. The empowered corporations of the world became the new seats of power, citing the dawn of the Corporate Era.
Major corporations, with control over resources and technology, have rooted themselves into government positions over time, forming the Scarabian Confederation. While SW City does have an organized republican government, the real power lies with the Confederation, which in its best light is seen by the populace of the Scarabian region as the primary civic authority that keeps the peace and prevents invasion by its (as they describe it) "less-enlightened" neighbors. These attitudes give denizens of the region a somewhat xenophobic reputation.
History
Origin
Modern-day SW City is the 8th in a series of towns all named SW City. All towns were tourist cities founded, built, and only intended for members of the gaming clan named SW, the Scarab Warriors, a team of about 50 people whom played an old 1997 game called Scarab. The tourist cities were built in a variety of worlds, but only lasted a few weeks before being discovered and deleted.
The last town was founded as a floating tourist town in Alphaworld on March 24, 1999. Four days later, SW City's tourist residents registered as citizens and the first permanent builds were made, down on the world's surface. Even though it was now a citizen city, the rule remained that only members from SW could join. However this rule was dropped June 9, 1999, welcoming SW City's first non-SW member and female resident, Pern.
On August 12, SW's leader, SW Comit, resigned after one and a half years of leadership and moved to AW "full time" to continue on with the city. By November, SW was virtually dead, and no other SW members were left in AW except for SW Kila, who changed his name to Sojiurn and left the city to do his own thing.
Things were looking grim for SW City, but a steady flow of important new residents that played a major role in its development began in mid-November. Since then, the city community has steadily developed and expanded.
Notable Events
1999
March 24

Old SW City (tourist SW City) is founded by SW Comit by dragging an object from the fields of Pippinville.

March 28
November 20
2000 through 2005: The Expansion Period
SW City saw continued expansion through 2000 and swcity.net was launched by Syntax in 2000. The website quickly became and continues to be a useful resource for residents of SW City and users of AW alike—a Cy Award was won for the website the very next year.
In 2002, SW Comit stepped down as the city's mayor during the 3rd SW City Birthday Bash. Syntax became mayor and SW Comit continued to play a large role in the city's development. It was also during this period where many of the city's infamous and unique innovations were developed—most notably the Nimbusians of Nimbus Land, and the genesis of what would eventually become known as SW City Interactive, propelling SW City into its Interactive Period.
Notable Events
2000
July 9
August

Oceanside, a subcommunity of SW City, is destroyed after a fight over a cheese log. >_<

September 10
2001
January 19

Stoneridge, SW City's fifth subcommunity (but fourth extant), is founded by Rae.

June 25
August 8
August 11
October 6

Silver Valley is upgraded to subcommunity status after nearly two months, becoming SW City's sixth subcommunity and the fastest citizen-built area to graduate from public sector (suburb) to subcommunity in SW City's history. Nutinmuch becomes a manager on the SW City staff.

October 24

Cypris Creek is founded as a viceroy territory of SW City by Vornox and is placed into Ridge District (Vicery's were smaller than public sectors).
2002
The Scarabian Republic is formed sometime during this year by members of SW City as a way of creating a coalition of mutual friendship between towns without requiring these towns to become part of SW City or subordinate to them. (Syntax, SW City Forum, September 3, 2002) This was probably formed before March 18, when the idea of an Embassy Row of towns was introduced via the SW City Newsletter. (Conjecture based upon the first SW City Newsletter)
January 5

A proposal by Syntax to make SW City an island (to build a huge body of water around it) was brought up. Construction starts on the "ocean." It is finished on January 14 and named the Irenic Ocean on January 18.

March 25

The first Nimbusian is built by SW Chris in Nimbus Land.

March 26

SW Comit, mayor of SW City for 3 years, resigns. SW Comit hands down mayor duties to Syntax.
Saddle Creek is upgraded to subcommunity status, making it SW City's seventh subcommunity. OniLink is promoted to Manager on the SW City staff.

April 27

Vornox's viceroy Cypris Creek gets promoted to "Suburb" status. It is the third citizen-built area to become a suburb (formerly called public sectors). It is also placed into Central District as Ridge District had been annexed into Central District by now due to Rae's inactivity.

July 9

SW City Charter is approved by all four staff members (SW Comit, Syntax, SW Chris, and Captain MAD Mike) and is released to the public.

July 26

Cypris Creek is promoted to subcommunity status after only 3 months as a suburb.

December 14

Espilae's island named Esperion Isles in the Irenic Ocean is promoted to suburb status and joins the Palm District, becoming the first suburb to join that district.
2003
August 29

A new suburb is created by Ferruccio named Castle Pines, making it the fourth citizen-built area to become a suburb of SW City. Castle Pines becomes part of the Estate District.

September 9

The first Submin is built by Espilae.
2004
November 26

Talks between SW Comit and Selanit start about creating an SW City based "RPG/Adventure" game with PHP. This is the genesis of SW City Interactive.
Late 2004 to Present: The Interactive Period
Between the reformation of the SW City government and the release of SW City Interactive in 2006 (2005 is considered an overlap year between the two periods), a shift occurred away from town building in its traditional sense and an effort—led by developers SW Comit and Syntax—began over the next several years to introduce games, quests, and interactive activities to existing areas of the city.
New developments during this period included the addition of Hyper Anthony on January 4, 2007—who would go on to produce the popular Rising Glen Retreat community—and Baro who introduced a completely new style of city building to Alphaworld in the form of Zelena, using textures of real-world buildings to simulate a level of realism not yet seen at that time.
Notable Events
2004
November 28

SW City's government undergoes its first reformation during a meeting at SW City Hall. The SW City core became the "Administration" (which oversees the districts) and regular staff became "Management" (which oversees their own areas)." Subcommunities, suburbs, and viceroys were all grouped into one category, "Precincts", with a manager for each. The old promotional system was abolished. This makes the total number of precincts seven, including Castle Pines, Esperion Isles, Saddle Creek, James River, Palm Grove, Syntax Estates, and Central SW City, since Cypris Creek, Silver Valley, Stone Ridge, and Oceanside were annexed into other areas of the city as they became inactive between now and their respective foundings.

Cypris Creek was annexed by Central District.
Silver Valley was annexed by James River.
Stone Ridge was annexed by Central District and later deleted.
Oceanside was annexed by James River.
2005
January 4

New Arklay City (AWTeen 2850s 1400e) owned by Hyper Anthony is officially admitted into the Scarabian Republic.

January 22

First NPC's (non-player characters) developed with PHP are built in SW City at East Ending. It is a simple mission between two Nougats where one gives you a package to deliver to the other. This later becomes known as SW City Interactive's first mission.

July 18
September 28

Hydrogen City suspended from the Scarabian Republic due to inactivity.

October 28

Talks begin with bot programmer Ima Genius about how to implement the current SW City PHP game system in with a server-side database. Syntax and Ima Genius begin re-coding the current PHP game system to work with an swcity.net database. What eventually comes to be known as SW City Interactive continues to coalesce.
2006
April 1

SW City Interactive's Grand Opening is held during SW City's 7th Birthday Bash.

September 12

Baro starts building a Shig farm on the northern shore of the Irenic Ocean. This later expands to become the town of Zelena.

October 29

SW City Interactive reaches 300 registered users!

December 9

SW City was added to AW's official browser teleport list, making it the first user-created submission to the teleport list.
2007
January 1

SW City brings in the new year with the promoting of Espilae to the SW City Administration, making him a city governor and finally filling the void left by Rae. Espilae named his new district Shores District.
Espilae accepts Hyper Anthony's request for his land grant to become a precinct of SW City, becoming the Southern Highlands precinct. This is the first citizen-created area to become a precinct of SW City since the government reformation in 2004 (and the eighth overall).

January 9
October 10

SW City Interactive reaches 600 registered users.

November 17

Espilae accepts Joshua's request for the Sequini Isles to become a precinct, and Joshua becomes an SW City manager. Sequini Isles is the ninth overall SW City precinct and the second citizen-created area to become a precinct since the 2004 government reformation.

December

Baro opens the Zelena Islands and Zlata Ves, small outposts north of SW City.

December 3
2009
2010
January 1

SW City undergoes a second government reformation, formalizing the development team SW City Productions and limiting SW City's city limits to the main islands and replacing the Scarabian Republic with the Scarabian Confederation. This causes Southern Highlands, Esperion (formerly Esperion Isles), and Sequini (formerly Sequini Isles) to become independent from Shores District, and East Ending and Mondary to become independent from Central District. Towns that formerly belonged to the Scarabian Republic, yet existed outside of the Scarabian region like Moonlight Heights, were not considered part of the Scarabian Confederation that replaced it.
Government and Reformations
The municipal government and administration was officially founded on August 8, 2001. Prior to this, a basic real estate system was in place. All political meetings and discussion takes place on the Scarabian Republic Forum.
SW City formed its first government structure on August 8, 2001, adopting a hierarchy system. Five new districts were formed. Central District (to include the newly formed subcommunity Central SW City and the public sector Saddle Creek), Estate District (to include Syntax Estates), Palm District (to include Palm Grove), River District (to include James River and the Oceanside remnant), and Ridge District (to include Stone Ridge).
On November 28, 2004, SW City's government was reformed to a simpler format during a meeting at SW City Hall. The The SW City core staff became the administration (which oversaw the districts) and regular staff became "management" (which oversaw their own areas)." Subcommunities, suburbs, and viceroys were all grouped into one category, "Precincts", with a manager for each. The old promotional system was abolished. This made the total number of precincts seven, including Castle Pines, Esperion Isles, Saddle Creek, James River, Palm Grove, Syntax Estates, and Central SW City, since Cypris Creek, Silver Valley, Stone Ridge, and Oceanside were annexed as they became inactive into other areas of the city between the reformation and their respective foundings. For a detailed explanation of this government structure, see the charter.
On January 1, 2010, adapting to the new realities that had emerged over the last several years in the way the city was structured and governed, SW City reformed again into a new post-governmental structure. A new organization known as SW City Productions emerged which consist of the users who make up the staff of SW City Interactive, and who are responsible for keeping the canon and builds of the Scarabian Region in order.
In SW City's story canon, SW City and many of its original holdings are now organized into many smaller regions, and many towns once part of SW City are now independent towns all linked together by the Equal Rights Trade Enactment. See the Organization section for more information.
A fully detailed timeline can be found here.
Awards
SW City and its staff have received a number of community awards over the years. These include Cy Awards, SAW Awards, and Mariane's Community Awards and are listed below.
Organization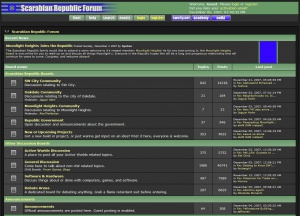 SW City is divided into two areas of interest, representing in-universe and out-of-universe versions of SW City. The primary body is a real-world production team called SW City Productions (out-of universe). Its counterpart is the government as it exists in-universe in the SW canon.
SW City Productions
SW City Productions encompasses all development of SW City and its properties. This includes the development and management of SW City Interactive (SWI), story canon, development and land management of the Scarabian Region (shaping the oceans and some level of ground control to keep expansion plans intact), running the website, forums, SW City Encyclopedia, Builder's Academy, and binding the neighboring cities together for general incorporation.
Current SW City Productions Staff
Story Canon and the SW City Government
The Story Canon now includes the story-related aspects of the SW City Encyclopedia and everything previously established under the old government structures and charters, with some changes, detailed herein.
SW City has had its borders significantly modified from its previous pre-2010 incarnation. The old borders were defined as the entire region in and around the Irenic Ocean, but this area is now be known as the Scarabian Region. SW City's city limits are now all of SW Island, Caturn Island, and the Sybian Islands (Sybit, Seawing, and Meta Islands). SW City itself will maintain its districts and precincts, but the districts no longer extend beyond the city limits. This has caused the independence of several territories, including Southern Highlands, Mondary, Esperion (formerly known as the Esperion Isles), and Sequini (formerly known as the Sequini Isles).
SW City is now just one of the cities within the Scarabian Region. Other cities within the region are now their own independent town and each has its own rules and staff. Following that, the Scarabian Republic is now known as the Scarabian Confederation, a corporate cartel composed of most of the corporations within the region.
The Scarabian Confederation exists as a story entity and isn't staffed by real live people. According to canon, land ownership within the Scarabian Region belongs mostly to corporations (as a result of the Corporate Era of the timeline), whom control and manage much of the land in the region, both in and outside of city property. While corporations are based within the cities, most of Alphaworld's land is lawless and not owned by any city. So the corporations, whom operate with more freedom and power than city government, manage property not owned by the cities. The confederation was put in place to prevent land disputes between corporations within the region, as well as abiding by other various rules of business practice to keep things mutual. The confederation ensures that all cities would have a fair trade right to resources within the region and also serves as the first line of defense for cities against any potential threats.
Member Cities of the Scarabian Confederation
The Scarabian Confederation manages the Equal Rights Trade Enactment contract, offered to cities within the region.
Independent City-States
Other towns and territories belonging to members of SW City Productions are also considered to be part of the official SW City canon, but are not members of the confederation due to story-related reasons.
SW City's City Administration and Districts
SW City still maintains its 2004 governmental structure in the story canon. Those who administrate the city are in a unique position due to the fact that these positions are very much a holdover from the pre-2010 SW City government hierarchy, yet are being administrated with an eye toward the new SW City Productions structure. These positions are in reality now only a story point in the larger continuity. While it would otherwise be better to administrate the land as part of SW City Productions, land ownership plays a key role in why the city's land is still being managed in the old way. Take for example the River District. River District is still owned predominantly by SW Chris, so it still makes sense for SW Chris to manage River District himself than to try to transfer the whole city into a corporate user account. Thus the old positions remain, if only for pragmatic reasons.
Mayor:
The Mayor is one of the governors. The only difference comes in that he/she is the chief executive officer of the City government, with among responsibilities and functions such as setting out the voting protocol, as well as seeing to any tasks and jobs that aren't delegated or reserved to any other officers in the charter.

Governors:
A governor's job and responsibilities are to oversee the precincts within his district, which is a collection of precincts. A governor also owns at least one precinct within his district. Admission of new precincts into the governor's district is the governor's sole discretion. The governor can also enact district-level government and rules.

Managers:
Managers are precinct owners. It is their responsibility to develop city infrastructure and environments within their precinct to make it ripe for real estate develop. A manager also has discretion to distribute properties to new residents.

Current SW City Staff
SW City Administration
SW City Management
SW City Interactive
Much of SW City is explorable using the SW City Interactive system, which allows you to keep track of items you've collected, phone numbers you've received, quests you've started and finished and so on.
Sources
External links