Pippinville
From ActiveWiki
Pippinville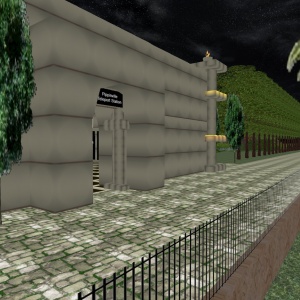 Community of AlphaWorld
Location
Leader(s)
Founded

November 6th, 1999

Population

~64

Website
Pippinville is a community in Alphaworld that was founded by Lady Pippin on November 6, 1999. At its peak over 60 builders worked in the town, though in recent years the number has dwindled to the single-digits and know only three continue to consistently work on the town. Despite this, retaining any collective activity in an independent town for so many years is a worthwhile achievement.

The city's founder, Lady Pippin, currently goes by the name
Mariane
and has garnered community attention in 2009 with the introduction of
Mariane's Community Award
, a monthly feature on the AWNewsletter that highlights valuable members of the community. A Hall of Fame marking their collective achievements sits in Pippinville.
A large teleport station exists at Pippinville Ground Zero from which users can navigate to other areas of the city.
Pippinville Teleports
External links