Off World
From ActiveWiki
Off World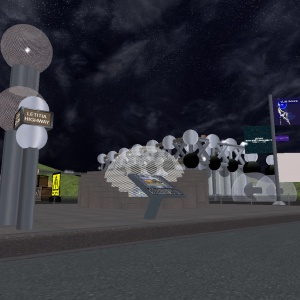 Off World was created by Dreamer2, Redoubt, and Tunablues. All three had interests in building and wanted to do something unique. It was also created as an area where citizens could learn new techniques for building, but first and foremost it was a part of Alphaworld and is like every other build or community there, in that it was constrained to the same rules of cell space, textures and objects. The first piece was laid October 29, 2004 and at present the area in Alphaworld has close to 100 builds.
Off World expanded itself to Pata world on January 2, 2007 due to the limitations of Alphaworld. However the original Off World remains at AW 31554N 31554E 0A 0 and is still updated.
Off World created a new base in America. The expansion began in February 2007 and continues today. Each new colony of Off World seeks to advance the story line.
Background Overview
The original Off World was themed as an ice mining colony on a planet long harmed by radiation effects from pollution and the changing of the sun's elements. As such the theme excluded the use of trees and grass from being used by resident builders, and demanded the use of flat textures that lended a muted visual to the builds with soft lines and unique design.
In the city's lore, it was established near the vicinity of Betelgeuse (sounds a lot like "beetle juice"), which is a red super giant star about 600 light years distant from earth. A solar flare hit the colony, which necessitated the move to Pata world. The expansion into America was pure exploration from the base in in Pata The storyline is carried in the blog: http://offworld3d.blogspot.com/
Off World is based on a lot of movement and the future itself. The group has been experimenting with videos and several are available throughout the area in Alphaworld.
Visitors who come to Off World in Alphaworld will find a very nice visitor's center as well as local site teleports located throughout the reserve, as well as a tour guidance center. NOTE: Off World's builds are very active and often spread out, so be ready to expand your visibility both literally and figuratively.
Government
Current Staff
Notable Locations
Off World Navy Yard in Alphaworld :: aw 31819N 31558E 0A 0  :: One of the larger contributions by Lensman, it contains close to sixty different kinds of spaceships.
External links