Nuwa Lueza
From ActiveWiki
| | | |
| --- | --- | --- |
| | Nuwa Lueza | |

— State —
Flag

Political Entity of the United Islands
Capital
Sedan
Largest Community
Sedan
Type
Federated State
Established
August 1, 1808
Population
6,150,000
Government
Government of Nuwa Lueza
Governor
John Kilani
Nuwa Lueza, pronounced /nuwə luɛzə/, is an island and one of the 8 federated states of the United Islands. It is geographically the island and politically the state where the city of Sedan is the state capital and largest city. The political state of Nuwa Lueza shares the same delimitations of the geographical main island but also includes the surrounding smaller islands. The state is governed by present governor, John Kilani.
Geography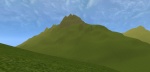 Nuwa Lueza is the largest island of the United Islands by land area. Beaches, Abrupt cliffs and mountains chains dominate most of the coastal lands, mount Luh'Wara is one of the highest elevations of the island that can easily be seen from Sedan, while the inner parts of the island are mainly composed of closed valleys.
Demography
It is the most populous state and island of the archipelago with 6,150,000 residents. A majority of this population is concentrated in Sedan's metropolitan area situated on the south eastern part of the island from the southeast coast extending to the north into the Lueza Valley.
State economy
The state of Nuwa Lueza also has a wealthy economy where high-tech, biotechnology, renewable energy research industries and tourism occupy a major place in the urban areas while the most prosperous agriculture industry of the U.I. states occupies almost the totality of the industry in the inner valleys where sugar cane, tropical fruits and vanilla are cultivated.
The state also has from far the most imposing state-level route and freeway network of the 8 islands making it the most accessible of them as, in the United Islands, road is the most used type of transportation.
See also