New Features in 6.0
From ActiveWiki
6.0
Build 1304 - 1380
Release date

June 7, 2012

Developers

AWI Chrispeg

New features
Chronology
Previous
5.2
Next
6.1
Welcome to Active Worlds 6.0 Enterprise Edition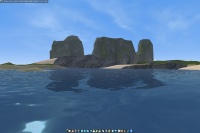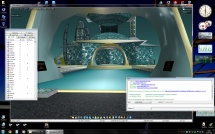 Quick Links

More Highlights
Interactive Web Panels
VLC media player
Voice Chat rewritten
Multi-threaded SDK and Servers
SUW - Single User Instanced Worlds
Build 1380
15 July 2014

Apply overlapped looping media playback to cache-able audio formats (.wav + .mp3) only.
Don't display media playback status when OSD is off.
Build 1376 - 1379
11 July 2014

Fixed an issue with web commands, switching the display of web content on a shared panel.
Forced windowless render for flash plugins by berkelium.
Native web/berkelium support for PDF.
Build 1375
29 May 2014

Better adjustment of sizes for in-world web page render on low-end graphics, avoiding scrollbars.
Sync to recent build.
Build 1372
10 May 2014

Auto detect installed version of IE to adjust version used by embedded web browser accordingly.
Recommended minimum requirements adjusted to IE9 and later (see download page).
Build 1369
2 May 2014

Added option clamp=on to picture and texture action commands. This overrides texture-address (wrap, mirror, clamp) definitions from a previously used texture and from the geometry for the polygons the given texture will be applied. The purpose of this feature has been to enable object-to-object pseudo-tiling on panels that were not explicitly designed for this scenario.
Build 1367
27 April 2014

Load VLC media web plugin with the built in Berkelium/Chromium web browser, to ensure media codecs are available for web browsing, without requiring any 3rd party web plugin installed, and without having to reconfigure the AW Browser.
Ensure all refresh values are multiplied by 60, and the minimum refresh is 1 minutes, maximum is 3 months, to reflect initially documented display of for refresh values in minutes throughout all of the three processes of the client application.
Build 1364
6 April 2014

Finalized modifications for the new Voice Chat audio codec, optimized for low latency connections and the standalone VoIP server.
Happy Birthday, Garfield!
Build 1361
30 March 2014

Updated voice chat, reduced latency to 72.5 ms. Private hosted worlds may want to update the server's voip plugin available on the download site.
Build 1360
28 March 2014
Essential VR

Media player: added support for redirected media embedded into vlc-playlists or when looping (e.g. youtube).
Sound command: mute sounds even they are looping (default), since they can be played from arbitrary sources and any length.
On activating the main application window, force mouse focus into the 3D render window, instead of the Windows default, the main frame window.
Ignore the "/" character keyboards may generate when pressing the divide key on the numeric keypad, not forwarding the extra character to chat input.
Updated nVidia's nvapi to the latest version.
Updated Direct Sound to require DirectX 9 or later.
Build 1356
21 March 2014

Media Player updates:
Added position bar display.
Added network buffering display.
Adjusted network buffer time from 1 second (vlc's default is too low for many) to 4 seconds.
Added detection and repair of corrupted files in cache.
Added support for cache/vlc to the browser built-in cache cleaner.
Added transcoding and up-sampling to caching of .wav files, since VLC is not capable storing all used PCM samplerates.
Build 1354
19 March 2014

Added disk caching capabilities to VLC, since VLC lacks on it completely. Cached are all files with the extension .wav and .mp3 . Videos and other streaming content is not cached to disk. This is in particular necessary when played in loops, as many worlds use external (not from an OP, not using sound/noise commands) sounds files and implement them as media. The world's object refresh will also refresh the vlc items located in the cache/vlc subfolder, with a minimum refresh rate of 2 minutes.
Build 1353
17 March 2014

Media command using loops, reduces or eliminates gaps as much as possible for audio between repetitions.
Video resolution now displays width and height, in place of the format description.
More dynamic memory usage of the media interface, to decreasing memory usage for the main process.
Fixes: media loops were broken, and OSD might have appeared in red always.
Build 1352
15 March 2014

VLC media player SDK replacing Windows Media APIs.
Build 1349
8 March 2014

Sync existing installations to features that came with the new installer.
Update application core to most recent build.
Update version info to display the year 2014.
Build 1348
18 September 2013

Minor and miscellaneous improvements for stability and speed in this maintenance release.
Addressed an issue with reflection maps / cubemaps for shaders of ocean water not appearing correctly always, if an additional docked window, e.g. embedded IE, reduced the size of the rendering area.
Added an option to forcible use the embedded IE for urls (not used in the free public universe).
Build 1347
14 July 2013

Fixed an issues with NVIDIA PhysX crashing while attempting to calculate the vertex re-mapping table for zero-depth geometries (e.g. a flat panel, floor, or rug, etc), when used as arbitrary models for cloth objects.
Build 1346
12 July 2013

Switched to Web-Immigration. Creating new accounts is now done through a web application, also accessible from the AW homepage.
Build 1345
10 July 2013

Added on option to register new account over web.
Ensure Microsoft's WinHTTP API is not forced offline by user.
Workaround for older systems than the upcoming Windows 8.1 around SSL revocation issues with GoDaddy certificates (and maybe other), as recommended and implemented by Microsoft, Google and Mozilla for later systems and browsers.
Build 1343 + 1344
8 July 2013

Fixed a potential crashing issue on malformed zip files from object paths.
Build 1342
3 July 2013

Added manifest for Windows 8.1 Preview, the upcoming version Microsoft Windows.
Build 1341
29 June 2013

Improved support for different versions of NVIDIA card drivers.
Build 1339 + 1340
27 June 2013

Fixed a CAV issue, that allowed editing presets and adding color settings.
Build 1338
26 June 2013

Star-Spangled Rating - In honor and appreciation to long time citizens of ActiveWorlds.
Added support for Optimus Graphic systems, dual graphic systems in modern high end laptops.
COBConv6 supersedes CobDump3 and Cob2Rwx utilitiies.
Build 1337
21 June 2013

Display current bot limit in Menu/Options/Citizen dialog
Comments in Shopping History will no longer be truncated (for new bought items).
Integrated tooltips rendering for embedded web pages that use Berkelium.
Display a message instead of retrying to load faulting web pages in Berkelium.
Build 1336
14 June 2013

Enabled in-world Shopping and the Credit System.
Build 1335
7 June 2013 open beta

Added an icon to the toolbar, bringing up a choice of Credit- and Account- Management Apps.
Added a generic Contact Form to Management Apps, for requests of service and support to Activeworlds,Inc.
Made the Credit History (Balance Sheet) dialog resize-able.
Added information about detected Installation Errors, like attempting to start the application from a system protected folder on Vista and later.
Added an option to open/download links from within the embedded web browser (Berkelium/Chromium) with an external application, e.g. Firefox, IE, Image Viewer, etc, by right click the link and choosing the desired destination.
Added an option to open links that may appear in the chat with external applications also, by holding down the Ctrl key while clicking the link.
Build 1334
22 April 2013 open beta

Fixed local path access for web-urls (including the "local:" scheme for the url action command, which wasn't in use since version 3.x).
Added local path access for the web action command.
Adjusted pixel-shift for web page render on panels.
Fixed a rare situation when a web-window target re-used any existing web-panel for display.
Reverted CAV preview control for the mouse wheel, to zoom in/out and scroll up/down as a dual functionality.
Build 1333
18 April 2013 open beta

Addressed an issue with waypoint-controlled multi-rider movers, when avatars fell off the mover as soon they lost collision contact, in particular when the mover rotated around X axes (pitch) along the waypoint-path.
Added animated spinner shown on top of webpages in the integrated web browser to indicate loading activity.
Miscellaneous minor changes to the integrated web browser.
Updating a 'full' package, if more than 2 incremental updates are determined.
Build 1332
8 April 2013 open beta

Extend teleport.cgi (teleport-URLs) functionality to consider world names that contain an underscore character.
Build 1331
4 April 2013 open beta

Fall back to the IE API, in case the application is forced to run Windows Compatibility Mode.
Added functionality to check if Windows Compatibility Mode is set for the application, if so, inform the user and attempt to run on the native Windows operating system's version.
Fixed an issues with re-sizing web-views through java-script, if rendering on web-panels only.
Build 1329 + 1330
31 March 2013 open beta

Added feature to control a web-panel from multiple remote buttons (using name=<some> option) to navigate without having to reset (using web reset name=<some> command) the web-panel each time.
When the command option reset for the web object command is used on a remote web command, the object needs to be clicked only once. In the previous beta builds the button needed to be clicked twice, first to remove the texture and second time to finally reload the initial display. This is also related to shared textures described below.
The command option stop for the web object command no longer displays a snapshot of the webpage, and behaves the same as the reset option with Berkelium. An issue occurred with the stop option, as it attempted to keep a shared texture alive. By concept and design D3D surfaces are shared between the object render and Berkelium; when the web browser is closed, the texture/surface will be destroyed also.
While in mouse-move-mode and the mouse pointer leaves the capture area of a web-panel the mouse-mode-mode is no longer canceled automatically. It is now up to the user to leave mouse-move-mode using the middle-mouse-button or F2 to toggle.
Berkelium's sub-processes are only started when at least one web page is requested for render. The sub-processes are shutdown after a while, as soon all web pages are closed.
Build 1328
28 March 2013 open beta

Added better support for graphics system that require power-of-two and/or squared texture sizes.
Added java-script support to re-size and re-position Berkelium web windows onscreen.
Fixed a crashing issue that occurred when multiple web-windows were open at once, one of them opened by an url command, and a teleport.cgi was clicked on the website that was opened with the url command.
Build 1326 + 1327
27 March 2013 beta

Added support for teleport.cgi urls to Berkelium.
Removed obsolete name=aw_3d option (static overlay render, non interactive) from the web command when Berkelium is used, which renders as 3D window or on a model in world by design.
Added support for the time option to the web command in use with Berkelium.
Set the upd option to 30 milliseconds by default, so this option can be left out in future builds.
Added optional navigation bar for Berkelium windows. The option bars=on can be used with url and web object commands.
Added feature to search in address bar. Enter your search keywords in the optional address bar to google for them.
Build 1325
25 March 2013 beta

Fix for Windows XP incompatibility. On a note, do NOT run the software under an older Windows version (so called 'system compatibility') than your native operating system version. The ActiveWorlds software supports features for Windows 8, even the main target is Windows 7.
Build 1324
25 March 2013 beta

Returned to beta cycle of previous build 1322, plus the features below.
Added support urls sent by caretaker bots to be shown as web window overlays.
Added support for user 'home pages' to be shown as web window overlays.
Added support for keyboard input forwarding to web-panels; web pages rendered on panels are navigate able using keyboard and mouse, with a few restrictions (e.g. mouse right click is used for object selection, and is not forwarded to the web browser).
Miscellaneous minor bug fixes to usability that were available in several previews before.
Build 1323
25 March 2013 beta

Update the upgrade utility for beta users only. Same feature set as build 1321.
Build 1322
14 March 2013 beta

Disable/grey out chat channel selection, when rendered meaningless due to use of global chat bots in a world.
Berkelium, based on Chromium, and CEGUI, is used for the web browser front end, replacing Microsoft's Internet Explorer API to a certain extent. Links clicked in the chat, the web and url commands used on objects will display their web content within the 3D environment. Thus also including video and other rich media, like Silverlight or Flash (or other web plugins installed). The right-hand IE window for world-home pages and custom queries will remain as it is, using the IE - API, for now.

The embedded web browser will allow us to create and run web-apps within the 3D environment.
It will allow to create dialogs, forms or any kind of info-display, triggered by inworld events or on user demand.
It will allow further extending features and services offered by the ActiveWorlds Browser without having to change client code every time.
It will allow content and world creators creating and running their own web-apps without the requirement of bots to interact with users.
GrabFrame Addon, shared memory interface. The recently added shared memory interface to the GrabFrame Addon can be used as an input source to Open Broadcaster, allowing content creators to publish and to broadcast high quality and high definition video/audio streams on other social networks.
Better and more defined avatar animations and rendering. Features have been added for skinned avatars, as used by Uni-CAV and World-CAV, allowing 3D artists creating and offering more defined avatars and gestures / animation sequences. Avatar sets that take advantage of these features will be available at a later time.
Better adjustment for CAV shape modifiers (the 'sliders'), in particular for 'muscle', 'fat' and facial details.

25 March 2013 realease

Update the upgrade utility. Same feature set as build 1321, all of the above remains beta only.
Build 1321
2 January 2013 beta
3 January 2013 release

Added an option to the Show menu to toggle Classic Bars, either using overlayed bars or traditional Windows UI control bars for Menu, Toolbar and Gesturebar.
Added a separate process running all media to take load and memory usage off the main application.
Added immediate volume update when changing global for media.
Smoother volume changes per distance for audio only media, e.g. shoutcast radio.
Fixed CAV texture-layer transparency issues.
Fixed matfx not working, if multiple cam resize events occurred in a row during application launch. Also ensure matfx is always created in first order.
Fixed locking situation when desktop color was reduced from 32bit color to 16bit color. An information dialog informs about the event and restarts the engine/application.
Improved rendering of toolbar icons of the overlay, on reduced color depth.
Improved rendering of bars in the overlay for OpenGL.
Improved speed for video frame conversion, imagine flipping, text overlay rendering into video frames.
World Server: modified detail behavior of user controlled multi-rider movers for easier inworld use. This update is already applied to all AWI hosted worlds, and will become available to private worlds with the next world server build next month.
Build 1320
10 December 2012 release

Adjusted mouse controls for the CAV preview. Dragging while left button is down allows to rotate the avatar, dragging while right button is down scrolls the avatar view. Pointing to a spot within the preview and rotating the mouse wheel, zooms in/out at that spot. Dragging the mouse with right button while shift key pressed, is the previous 'look at' feature.
Fix a transparency issue that occurred in beta build 1319.
Build 1319
10 December 2012 beta

Fixed a crashing issues when saving a selected group of objects to AWG, if no description and/or action is given.
CAV preview is now rendering into the main camera directly

, to improve render quality and speed. CAV preview is now also available in OpenGL and Software render modes.
Name tags above an avatar's head now take animation sequences and their offset position in world in consideration. This also fixes a glitch, when name tags were rendered too low for very tall human avatars.
Finally worked around the NVIDIA PhysX bug, when it crash on cloth objects if no NVIDIA hardware was present. We are triangulating the geometry ourselves and feeding NVIDIA with our own welded triangle strip, and we remap (remapping was were NVIDIA PhysX crashed) the animated results in return.
Build 1318
5 December 2012 beta

Fixed an issue with loading an invalid formatted AWG-preset file via "Load object group" causing the browser to hang.
Fixed an issue when setting a camera to an object and applying a move command to extreme negatives caused a crash.
Fixed crashing issues caused by 'lost device'. Direct3D can loose the hardware device in circumstances that include screen and monitor savers, locking the Windows user, or when other 3D applications gain exclusive / full screen access.
Fixed an issue when the chat window disappeared, when pressing the ESC key multiple times while the input focus was set to the chat input or whisper input lines.
Fixed issues when switching tasks. Key combinations like Alt+Tab, Alt+Esc, Ctrl+Esc are used by the system to switch between applications. Unlike older systems, Windows 7 does no longer put foreground applications into background while switching tasks, what caused some inconvenience in particular while in mouse mode.
Added WER (Windows Error Reporting) to the browser, for easy handling of reports when crashes occur. WER also takes care of attempts to close down the application gracefully. WER is available on Vista and later.
Animation sequences in X-format and in Hamfon-format now take the Y-translation into consideration, and only omit Z and X translation, whenever the according setting 'translate' is not used with the command. The same goes for all animation sequences that use the mentioned format for avatars chosen from the list.
Added Anti Alias 'pixel-stepping effect reduction on geometry edges' to all graphic systems that support it, and enable it by default.
Mip LOD Bias used as the default. When a graphic system is capable of modifying the Mipmap Level of Detail, mipmapped textures will be used whenever possible to reduce video memory and accordingly the required memory bandwidth needed for rendering.
Added an option for switching vsync (vertical synchronization of presented frames to the monitor refresh cycle) on Vista and later. Previous builds had vsync always on for Vista and later. Default is now off.
Docking containers are now fully implemented, if you wish to dock one window (e.g. the chat) into another window (e.g. the tabs). They can be arranges as desired, side-by-side, up-down or tabbed. The layout will be stored when the browser is closed, and reloaded when launching the application.
GrabFrame, the video capture and live stream addon, supports HQ and HD formats up to 1080p. The common formats used for youtube, 240p, 360p, 480p, 720p and 1080p are supported in 16:9, 4:3 and several more aspect ratios. Quality setting affect bandwidth and frame rate of the resulting video stream. Requires Windows Media Player 9 or later installed.
Added an option to aworld.ini allowing to define a desired graphic adapter to be used by the 3D renderer in D3D mode. This can be useful, e.g. when attaching an external monitor or TV screen to the PC/laptop without changing the computer's default graphic adapter.
Build 1317
6 November 2012
7 November 2012 release
Improved render-to-texture (envi) speed for ocean shader, avoiding to re-create the ocean surface, when the avatar's position is in another ocean sector than a secondary virtual camera.
Improved ambient occlusion rendering performance, gaining up to 20% speed boost.
Disabled "Unload 3D scene when minimized to tray" until other concepts have been worked out and approved, as consequences of fully unloading the complete scene are not wanted.
Addressed an issue with fading/transition of ambient light color when position changes between two overlapping zones, both blocking directional light.
Worked around a nVidia PhysX internal error occurring on some Windows XP systems sporadically (note, still avoid using random models for cloth, as they may not work on certain systems - a known problem inside the NVIDIA PhysX SDK for 'mesh cooking'; we may want to offer geometry primitives in replacement of random models at some point).
Fixed render-to-texture (envi) causing flickering ocean surface some times.
Fixed an issue not setting the "Listen to Global" chat option every time when entering a world automatically, even the option was selected.
Fixed an issue causing the chat window to disappear, when pressing the escape key (ESC) in chat or whisper input fields.
Fixed an issue crashing the browser when a linked child object was selected immediately after modifying its parent mover object.
Fixed an issue with loading malformed AWG files from local disk causing the browser getting irresponsible for a longer period of time.
Build 1316
19 October 2012 beta
Modified object selection: ignore mis-clicks on terrain, sky, or ground objects, etc., whenever at least one object is selected already. This keeps you from deselecting a group of objects by accident; deselect objects by left mouse click rather than by right mouse click.
Modified terrain selection: ignore mis-clicks on objects, sky, or ground objects, etc., whenever at least one terrain cell is selected already. Forward looking towards multiple terrain cell selections.
Light transition was turned off while CAV preview was open and moving into or out of a zone blocking world directional light, caused world directional light color not been set correctly.
Added button to privacy settings tab, resetting all contacts to privacy defaults. Blocked contacts remain unchanged.
Added ambient occlusion rendering.
Added a CAV feature to allow assigning skin color to any geometry's texture layer, not only to top texture layers.
Fixed an issue with malformed gif animations from the WWW (picture command) reporting a size of zero width and height, eventually leading to a crash.
Fixed an issue when the application was minimized to the system tray, static groups not loading correctly after restoring the application's window.
Build 1315
13 August 2012
Added Start with Windows option to the File menu and the tray icon's context menu, launching the application on Windows logon to the tray.
Added command line option -tray, for launching the application to the tray from a shortcut.
Apply anisotropic texture filters to minification filters only, not as magnification filters (not really needed, many cards do not support this anyway, adds to improving frame rates a little).
Render during idle-updates of context menus, render while a popup menu is active. No more dropouts on voice chat while right clicking avatars, on contacts, on world names in the world list, and continue 3D rendering with in an idle frame rate of about 8 fps.
Set Listen to global chat channel as default when initially entering a world.
Suppress Windows noise on tray notifications always, which are enabled on XP by default, but disabled by default in Vista and later.
Fixed eventually flickering texture overlays in the CAV preview render window, while moving opacity sliders.
Fixed an issue when Mozilla FireFox, Google Chrome, or any other external web browser exited with an error, eventually crashing the calling process.
Fixed a crashing issue, when two or more movers shared the same sound file and left the visual range within the same update frame.
Fixed an issue that caused the sky background flickering after display device settings changes, such as screen resolution or color depth.
Build 1314
7 August 2012 beta
Added default-shape feature for world-CAV templates.
Build 1313
4 August 2012
Made Tray Icon features available, contributed to the AWReunion events by ActiveWorlds, Inc. Have fun!
Build 1312
31 July 2012
Many thanks to the French community, in particular to arsène, Horsy and Kanah, helping and providing detailed information about mobile embedded chip sets, causing issues with DirectX rendering. The cause was matfx, and none of the recently added advanced 3D rendering methods, what means we can lift the restrictions that were applied in build 1311 again soon. The affected graphic chips have no or very little 3D hardware acceleration support at all. Apologies for any inconvenience this may have caused for you, on the mentioned affected embedded chip sets.
Chip sets that show 64MB or less for dedicated/local video memory, as well as virtual and emulated devices (e.g. VirtualBox, Virtual Machines, Wine, Microsoft Basic Driver) will not render reflections or shader based ocean surfaces, or any other advanced 3D rendering features.
Fixed an issue with disabling the primary spelling dictionary, if the application's language was set to another language than 'default' / English.
Fixed a crashing issue when displaying web page on top of the 3D view, when the cubmap subrenderer was not paused.
Added an alternate method for rendering reflections: some low end graphic chips support cubemaps, but can not use them as render target. If this is detected with the chip's capabilities, it will render to an ordinary surface and copy the rendered result into the cubemap's faces instead.
Added a desktop Tray Icon, notifying about arrived telegrams, system messages and more. Clicking the tray icon minimizes the application to tray, clicking the tray icon a second time shows the application again and brings it to foreground. More feature will go into tray icon controls in upcoming builds.
Notes
To request individual graphic support, in particular for so far 'unknown' graphic chips, download DXCapsViewer, unzip and run the program, and print the result to file. Send this capability report to Activeworlds Support along with aworld.log from your AW folder and a description of the encountered graphic issue.
Build 1311
25 July 2012

Fixed an issue with the French dictionary when used as second/alternative dictionary.
Hotfix for mobile/embedded graphic chips: Reduce Direct3D feature set for mobile/embedded graphic chip sets, e.g. Intel Mobile and ATI Mobility, or if the total amount of dedicated/local video memory is equal or less than 64MB. Affected devices are indicated as 'low end' or 'mobile' in the aworld log. Issues with embedded/mobile graphic devices seem to be dependent of the driver version and OEM as well as of the Windows version used, yet there is no clear rule which driver version for the used Windows version is working well enough to enable advanced 3D rendering features. Downgraded are recently added 3D features only, and only for such embedded graphic chips until further notice when more defined reports are available.
Removed/disabled the world-plane disk display on selection axes.
When Ocean Shader rendering is enabled, ensure at least one reflection setting is chosen. In the previous build it was possible to enable ocean shaders with all reflection layers disabled, what lead to ocean surface not showing, cause of the missing dependency.
Build 1310
20 July 2012 beta

Fixed an issue with fog not rendering correctly underwater; was related to the reflection map for the water surface.
Updated French message file. Thanks to arsène updating the message file to 6.0.
Updated US-English dictionary to László Németh's corrected version; fixes issues with apostrophes, e.g. we've.
Build 1309
17 July 2012

Added support for Hunspell Open Source spelling library and dictionaries (detailed licenses can be found in the default/hunspell_dict/licence folder).
Added right click copy and paste functionality to text (RichEdit) controls, like the scrolling chat, the chat and whisper input line, and the telegram input dialog. It offers to copy a whole line of the text, or just the selected part into the clipboard.
Added drag and drop support for text elements from external applications, such as Word processing programs or Web browsers.
Unified the user interface for all Windows versions, removed outdated individual themes XP, Office 2003 and Office 2005.
Added support for DWM (Desktop Window Manager), a Microsoft library helping to integrate applications into the look and feel of the desktop (see screenshot on top).
Added semi transparent floating windows (no parent window) support for Vista and later. Opacity can be adjusted in the settings' General tab.
Added semi transparent auto hide docking windows (child windows with parent dependency) for the upcoming Windows 8 (would be nice to have this feature with Win7, but they started to support it with Win8).
Added 16bit index buffer support for ocean rendering, for low end graphic chips. The ocean surface will have a limited grid resolution when forced to 16bit (65, 534 max).
Following to the forced standard on Windows Vista desktops and later, applying vertical sync to the presentation interval always, for a smoother appearance in windowed mode. On Windows XP vertical sync remains off, with no change.
Fixed an issue with avatars not having their feet on ground, when switching between tall and smaller CAVs. E.g. between an adult and child avatars, as well as some non-human avatars.
Fixed an issue with the CAV preview display, not rendering the preview while the avatar was half under water and half above water. Reason was that under water rendering is done in a separate step as rendering above water since version 5.2. This was not considered with the CAV preview.
Fixed an issue interpreting hardware capabilities incorrectly. This broke the anisotropic filter and the mip LOD bias switches.
Fixed the the mother of most crashes. The issue was reproducible, when the rendering view window size was reduced to zero width and height, when Windows User switching was used, or when screen savers were active claiming an exclusive 3D device. It also eventually happened in situations when the size of the 3D view had changed, implicitly or explicitly. A crash could have followed immediately or delayed.
Many thanks to all who contributed to the preview and tested it hard. I feel to name arsène for the troubles he had to go through with the spell checker last week and Snowie for spending much time in going after crashing issues.
Build 1308
29 June 2012
Is a maintenance build, fixing issues with the previous beta build 1307.
Fixed crashing issue caused by failing (invalid format or corrupted content) mask textures.
Fixed loading problems with OpenGL and Software render modules.
Fixed an issue World CAV following strict rules of Universal CAV.
Increased maximum memory size the application can gain on 64 bit architectures.
Added message to chat console after startup, informing if the Microsoft Basic Driver is installed to get the graphic card manufacturer's driver.
Added support for Anisotropic Texture Filter for all brands of graphic cards, not only for nVidia cards. Same goes for Mipmap LOD Bias settings. Most cards today support that feature.
Removed NVAPI anti-alias options from the selection which are only simulated by software (driver) on certain nVidia cards.
The previously added betatest action command continues to work for previews and tests until further notice.

Build 1307
26 June 2012 (beta only)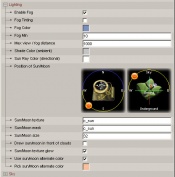 Sun (directional) light ray direction can be set using a graphical vector visualization. The confusing numbers to control light direction are gone.
The yellow path on the compass give a hint where to drag the sun, for a natural light setting in northern hemisphere. The blue path describes it for the southern hemisphere.
Without holding down any key while dragging the sun, both previews will only reflect the changes in east - west direction, otherwise they operate independently. This way all possible directions of the light ray are still possible, same as it has been in previous versions.
Optionally, while holding down the Left Shift Key and dragging the sun, the other perspective moves accordingly, e.g. when holding shift down and dragging the sun to the south on the left compass, the altitude on the right preview will also raise accordingly to norther hemisphere.
Optionally, while holding down the Left Control Key and dragging the sun to the north, the altitude on the right preview will also stay above ground accordingly to the southern hemisphere.
Holding down both, the left control and the left shift key, will reset the position of the sun to when the dialog was opened.
The titles of the light controls changed to more natural and less technical descriptions.
More controls for shader ocean surface.
A Grid Scale, that is the size of each grid - cell, for the shader water surface now can be adjusted. An ocean with low waves, does not require a high resolution of for the grid, so scaling up the grid - cell size, can help a lot to improve overall rendering speed.Using a Grid Scale of 1.0, produces a grid equal to the cell size of terrain. The lower the value for Grid Scale is, the higher the resolution for the water surface gets. The higher the value for the Grid Scale is, the lower the resolution for the water surface, and the better the overall rendering performance. The value range is from 0.66 to 5.0, when the default scale is at 1.33, that gives a size of 13.3 meters for each grid cell slightly bigger than the standard cell size for terrain.
The LOD (Level Of Detail) rendering now takes the world's clipping plane into consideration. This means, that only about 1/4 of all LOD-vertices have to rendered at a time. This can reduce GPU usage by 75 percentage compared to previous builds, depending on the 'max view distance' setting and of course on the total power of the graphic card.
Reflection settings now got their own header/chapter in the world feature dialog, as they will be used for other non global reflection and refraction effects, e.g. on objects, also.
More checks have been added to ensure the underlaying graphic hardware actually supports the desired features.
Fixed is an issue with the media player API, attempting to open an external rendering window when used from world or zone ambient sound, even if the provided media stream or file does not contain video frames. This issue was responsible for various reported crashes on media.

For everyone who wants to preview and test the embedded effect factory.

Build 1307 offers a special action command allowing registered users to test with advanced shader rendering techniques. The shader demo effects are taken from ATI rendering examples. The current effects are not exactly what we have planned, but are sufficient for tests.
activate betatest what=exfx option=<number>

The number can be in a range from 1 to 3, representing different shader techniques and methods. Only the activate trigger is allowed, global and other options are only allowed in combination with other commands.
Number 1 is a fixed function shader simply turning the object into a non-edge-hiding and solid-white wireframe representation.
Number 2 is a ghost shader, turning the object into a monochrome translucent representation, with semi transparent multi texture layers.
Finally number 3 is cubemap-bumpmap-refraction shader with an extreme setting, e.g. suitable for crystal affects, when the right object is chosen.
How an effect finally comes out on an object depends on the model's geometry and it's detail settings. A few examples can be examined near the landing zone of AW@4D world. Note, that the betatest action command is temporarely for preview and testing only, and will be removed in a later build.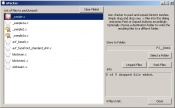 xPacker
19 June 2012
xPacker is a small tool to pack or unpack DirectX meshes. It converts them from txt-format to bin-format and vice verse. It is meant to reduce the file size of the meshes and to minimize the loading time for geometries in the browser. Just start xPacker.exe and drag & drop your .x files into it. Optionally select an another output folder, if you don't want to overwrite existing files. Finally press the Pack or Unpack button to process your batch accordingly. xPacker also performs a minimum file format validation. You still have to zip the .x file, in order to make it available on your OP.
xPacker is available for download.
Build 1306
18 June 2012
Ocean Render Example - One of Thousands of Possibilities
More parameters have been added to configure world ocean water.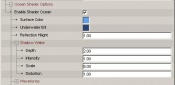 Reflection hightlights can now be adjusted.
Shallow water depth limit can be set, allowing to use low-level terrain covered with water.
The intensity of the shallow water layer is adjustable.
The texture scaling for shallow water can be set.
Shallow water texture distortion can be adjusted for nice simulation.
World server build 142 is required in order to use these features.
Starting with world server build 142, we can add more world attributes without having to upgrade the world server each time.
The Linux version of the world server now adds an option (-nodaemon) to run the server in console mode optionally. The signals for quit (ctrl+c) and stop (ctrl+z) are also trapped initiating a proper shutdown. All dependencies on the Linux server are gone, except to libc.so.6 (GLIBC 2.0.3 and later) and the common Linux platform shares in /lib/ld-linux.so.2.
Build 1305
12 June 2012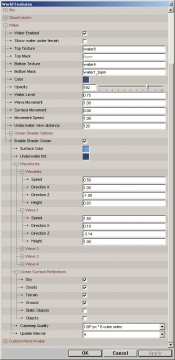 More parameters have been added to configure world ocean water.
World server build 141 is also necessary to enable these new world feature setterings.
If a user's PC does not meet the shader requirements, the water rendering will fallback to old software technique.
The previously existing values for Wave Movement (wave height) and for Movement Speed acts as master control for the detail settings for the 4 geometric wave forms.
The texture names are currently not used with ocean renderer.
When Shader Ocean is enabled, the main color controls the underwater fog only, and the surface and underwater tint color can be set seperatly and independly.
The direction for the wave forms are given in radians from -¶ to +¶.
Surface Reflections can now be selected, to fit the world's requirements. Care must ve taken when enabling reflections, as dynamic cubemap generation requires 6 more subrendering steps; from the main camera's position to the top, bottom, left, right, front and back.
When sky and cloud rendering should not be a lagger, terrain rendering should be moderate, and all other reflecting objects are probably for special optimized environments only.
The cubemap update interval tells it to render the cubemap every 2...16th frame, and defaults to 4. The cubemap quality can be set from 128 to 512 pixel squared, with the default of 128. When rendering wavelets (fresnel distortion / refraction), a high resultion is not needed. If you want to experiment with plan surface reflection, you may want to increase quality.
Mip LOD bias is now available with the Options/Graphics settings, allowing to fine tune your 3D experience.
Better support for node-interior for terrain rendering has been added to support upcoming 3rd party terrain tools. Dynamic LOD (3 levels of detail) is now applied to terrain rendering also. Whenever overload situation might occur, LOD is first reducing the amount of verticies, and in 'worst of worst case' if nothing else helps, even the clipping distance can be reduced.
Build 1304
7 June 2012
Version 6.0 Enterprise has been made available.
For all graphic cards that support it, mipmap loadbias and anisotropic filters have been added.
- Mip load bias makes textures appear more crisp, by keeping each mipmap level for twice the view distance.
- Anisotropic filters reduces texture distorion when viewed from an angle.
As part of the feature testing, world owners may want to play with ocean water surfaces.
- To enabled them, enter the keyword 'shader' into the parameter field 'Bottom Mask'. There will come further parameters to control the shaders, yet feel free to experiment with the existing feature settings.
Other added features will be announced and enabled as time comes.
Examples
Screenshot: Beach View
Screenshot: Reflective Ocean Surface (1)
Screenshot: Reflective Ocean Surface (2)
Video: Reflective Ocean Surface - waves and wavlets omitted
Video: Stormy Sea (1)
Video: Stormy Sea (2)

Get prepared
World hosts will have to upgrade the world server to version 6.0 build 140.
World owners have to assign an (1) active account with each world. Only this world owner account will have privileges to change world rights (CT privileges continue rights of changing world features). For many worlds AWI knowns the assosiated account and can preset it for you with the world license. At release of version 6.0, world owners will be informed and can contact AWI about it for details. -- does not apply
Bots can remain running on SDK build 100, the latest public SDK.