Mount Bob
From ActiveWiki
Mount Bob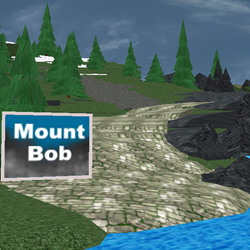 Leisure area
Location
Size

?

Builder(s)
Mount Bob is a nature-themed area in Alphaworld. The "mountain" is more of a series of staged trails that depict a linear mountain path, ending at the peak of 148 meters.
Built by Rjinswand in 1997, the area became very popular for its trails and adventurous nature, and won a Cy Award in 2001 for "Best Environmental Design in a restricted object path." Rjinswand has since moved on from AW, but his build remains popular among older users.
The site is also notable for hosting Rjinswand's farewell message to Active Worlds, which has been recorded below:
I'll be signing off of AW more or less permanently in December 2002. My life has seen a lot of changes since I first installed AW on a borrowed PC in March of 1996. AW, and many of the people in it, played an important part in those changes.
So to all my friends, my co-workers here, and even those with whom I did not entirely grok, I bid you a fond farewell and a good life. Thanks for exploring all my stuff. And remember – you miss a LOT when you fly!
One more thing. In early 1997, AW almost shut down permanently. Back then, I was going to hold an End of the World party up on top of Mt Bob. If AW goes down and I know about it in time, that party will happen right where you're standing.
--Rjinswand, November 24, 2002, at the peak of Mount Bob.