Moonlight Heights
From ActiveWiki
Moonlight Heights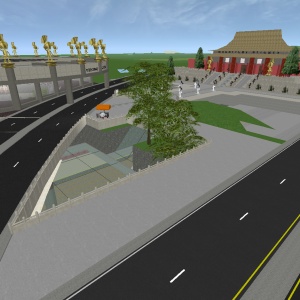 Community of AWTeen
Location
Leader(s)
Founded

April 7, 2001

Population

53

Website
Moonlight Heights is a large city in AWTeen. Founded in 2001 by AlexTheMartianit is the oldest surviving town in AWTeen, and also the only one to receive a Cy Award for one of its structures. Moonlight Heights goes through times of being active and non-active, however at least once every year the town is picked up and buildings are built or renovated along with new residents joining.
Government
In recent years Moonlight Heights has been maintained by both mayor AlexTheMartian and town manager MrMeh, and for most of its first 6 years of existence the town have been without a written system of government, however due to the restructuring of the town in preparation for becoming part of the Scarabian Republic the town has been divided up into administrative districts.
On November 28, 2007 the town was divided into 5 districts, and currently there is only 2 district managers, AlexTheMartian for Mountain district and MrMeh for Central district. Moonlight Heights decided not to divide it districts into precincts like SW City has due to the smaller size of the town. Also, because AWTeen's Caretaker was named Governor during the time of restructuring, Moonlight Heights changed even more from SW City's government system by naming heads of districts "managers".
Notable Locations
External links