Maya
From ActiveWiki
Maya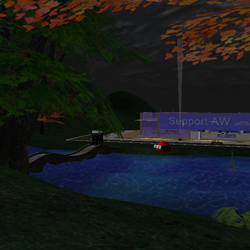 World of Active Worlds
Owner(s)
Founded

2000

Configuration

P30 N,W,S,E 5 Users

Rating

?

Running?

✘

Website
Maya was a world owned by maki. Maya acted as the Support AW organization headquarters. In later years, Maya was a private world but opened to the public for about a month following the annual Support AW Awards ceremony. In a sponsorship deal between JerMe and Support AW, Maya was hosted courtesy of JTech Web Systems.
History
Maya was established by citizen Loser. It was named FREAKS until maki changed the name in December 2002.
Maya has seen several themes during its existence. During the FREAKS period under the ownership of Loser the world contained vast mountains and caves in foggy conditions. It was briefly a grungy toxic environment after maki acquired the world. It later boasted a rain forest environment which has since been revised to accommodate several buildings.
Commercialization
Maya was "commercialized" when the AWNews 5th anniversary celebration was held in the world on Saturday, April 23, 2005. The original AWNews headquarters was modeled by Aura Lily. A large event hall was constructed mostly by Kenneth to hold the celebration and unveiling of the Support AW organization. Since the inception of Support AW, both buildings were consolidated into one Support AW Universe Headquarters structure that currently resides in the world.
Support AW Awards
Both Support AW Awards ceremonies have been held in Maya. The first ceremony was held in the current headquarters building. A stage originally built for a GCTV show was revised for use at the second ceremony. Maya will be the venue for the 2008 awards.
External links