Magsbot
From ActiveWiki
Magsbot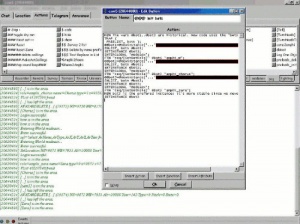 General bot
Creator(s)
License

Closed

Price

Free

First release

1999

Downloads

Always scan downloaded files before attempting to open

Website
Magsbot, written by Magine, is a fully programmable bot that uses its own scripting language. It features a user-editable table of events and corresponding actions, and user-defined buttons that can be directly activated by clicking or called as functions from other code.
The primary intent of Magsbot is to allow quick and easy development of virtually any bot-driven application, by providing simple access to nearly all SDK capabilities, as well as many other features and functions that would be likely to be useful in a bot.
Magsbot is written in Delphi 7 and supports plug-ins written in Delphi in the form of DLLs. Magsbot plug-ins can add new commands and functions to Magsbot, and can call upon a large number of exported functions within the executable.
Magsbot is also used as a platform for Magine's RPGBot, which adds role-playing game features to a world.
External links