Lampert Village
From ActiveWiki
Lampert Village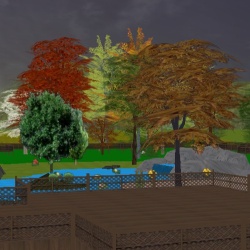 Community of Alphaworld
Location

Hidden

Leader(s)
Founded

22/2/2009

Population

5

Website

?
Lampert Village is a small town founded by Flashcode in AlphaWorld in February 2009. Its coordinates are restricted to protect tourist builds.
History
Lampert Village was originally a building based on the content of the founder's website: jimmyn.com. It soon acquired a nature walk. Flashcode's friends later joined the place as mostly tourists and later it was given the name of Lampert or Lampert Village. Over time the village grew through both tourist and citizen builds.
People
Lampert Village is populated by the founder Flashcode, a tourist named Yoshark, who has contributed a lot, one other citizen and two tourists who have not contributed much.
Builds
JimmyN.com Building (under construction)
Welcome Center (under construction)
Nature Walk
Flashcode's House
Yoshark's House
A Tourist's House (under construction)
Flappy's House
A Citizen's House
Flashshark Industries Laboratories
Flashshark Industries HeadQuarters
Flashshark Industries Hazard Training Course (under construction)
Flashshark Industries's Namiki Orbital Research Platform
Flashshark Industries's Music Tree
Flashshark Industries's Emergency Bunker
Upsilon Teleporter
Area 7 (under construction)
Area 7's Epic Games Shop
Courthouse
Jail
Police station
Lon Lon Ranch
A small town called Ravenholm
Kasan Incident Tourist Attraction
White Forest Inn
Electric Bike Factory (under construction)
Four Zombie Survival Forts/Shelters
Lampert Village Solar and Wind Power Plant (under construction)
Museum of History
Flashshark and Area 7
Flashshark Industries and Area 7 are both companies and rivals. They research sciency stuff. Flashcode and Yoshark are the cofounders of Flashshark and a tourist is the founder of Area 7. Flashshark is much larger than Area 7.
Picture Gallery