Horizon City Ground Zero
From ActiveWiki
Horizon City Ground Zero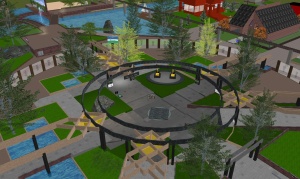 Horizon City Ground Zero (also known as HCGZ) is the official entry point of Horizon City. The area was originally designed and built by Sirqus.
Design
A notable feature of the ground zero is the 38m diameter circular structure that goes around the center point at about five meters above ground level. The structure is built with wall008 and wallh08 which form two circles, of which the smallest is approximately 30m diameter. The structure is supported by several columns.
Since the browser loads objects after the user lands at the ground zero, there is a possibility of falling through a floor or build. The entry point was designed to compensate for this by being built at zero meters. As the surrounding areas are above two meters, stairs and ramps are used for access to the city.
Process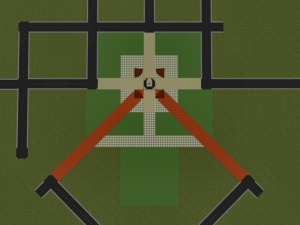 Original blueprints for the ground zero were drawn on paper in 1999, as part of the larger plans of the city.
The first prototype was built in December, 1999 as a tourist at an undisclosed location. It was elevated 4 meters above ground level and had no circular structures on it. The prototype was never completed.
The second version was built at the current site. The starting object was seeded by a bot. One of the oldest objects that is still in place is floor08h; placed at a 45 degree angle at the center of the entry point at 0m height.
Ground zero island
As the ground zero area is surrounded by water, it is also known as the "ground zero island". At least twelve unique builders have contributed to the island. The first builders at the island were Lara, Dieter and Sirqus. Their houses are to the east of the entry point. The largest buildings on the island are the infobuilding (city hall) of Horizon City and the skyscraper Belle Van Zuylen tower. Both are to the south of the entry point.
Most notable bridges leading away from the island are the Tri-Bridges to the north and Hydraulic Bridge to the west.
Setting standards
Soon after the ground zero was built and opened to public, many other new cities have built similar entry points. There is at least ten other towns that has been influenced by the HCGZ:[citation needed]
Concepts
Entry point at 0m level
Surrounding areas built meters above the 0m ground object level
Displays names of all builders around the entry point
Circular form around and above the entry point, supported by lines of columns
Paths leading straight to major directions, such as south for the information center
Preservation; The circular structure and key elements have been untouched for at least 10 years. Preserving the original timestamps of objects has provided an extra challenge for updating the area and having it look modern enough.
Keeping it up to date: The latest features are implemented and used somewhere at the area as they become available, such as cloth.
Trivia
Both of the Horizon City CyAwards are displayed at the ground zero
The first Horizon City sea to the south can be seen everywhere from the island. The sea makes use of v4 particle emitters.
Along with Alphaworld ground zero, the HCGZ was also deleted by a hacker in September, 2000. Both were restored by AWI.
Rotating light was made using special commands before they were allowed to be used
Gallery