Horizon City
From ActiveWiki
Horizon City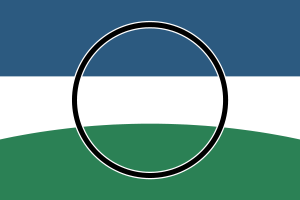 Community of Active Worlds
Location
Leader(s)
Founded

January 5th, 2000

Population

~400

Website
Horizon City is a large city in the southeast sector of Alphaworld. The city area covers about 10 km2, making the city to be the second largest town in Alphaworld by area. About 400 builders makes the city to be largest town in Alphaworld by population.
The City is surrounded by three big beltways and one embankment between the second and third beltway. The second beltway surrounds the whole city by making a big circle of which radius is exactly 482 coords from the city center. City area is usually defined to end between the second beltway and the embankment. Most of the area is covered with objects built by city staff to prevent vandalism and to allow future expansions.
Unique form of Horizon City Ground Zero area has remained during the city history even though the latest objects and V4-features are implemented there too.
History
Founding
Horizon City started as one man project on late 1999. A tourist called "sirQus" had built several separate buildings, mostly houses, in some tourist towns and around alphaworld. He also started a tourist town and got nearly 10 tourist builders to build there. It was about that time "sirQus" started to make plans about new kind of town for aw citizens to come and build. There was a name contest in the tourist town where the name "Horizon City" was first mentioned by a tourist called "Unatomber", "sirQus"s real life cousin.
A citizen called Jcolbert, owner of world Librarea generously gave citizenship to sirQus and he started to look a good place for the town. In that time Vevo (later AWMapper) had mapping system over Alphaworld, which helped sirQus to find place for this new town. He tried to find a place from as far from other places as possible, allowing enough space to build. The place was found at SouthEastern sector of Alphaworld at coordinates 7000s 14000e. First objects were laid there by January 5:th 2000. Soon after that most of the city center, Ground Zero, area was built and enough space around it covered the city was opened to public. First builders that arrived at January 16 were sirQus's early AW friends: Dieter, Lara and EarthAngeL.
Builders around AW universe got to know about this town and many came to build there. In a month there was already 50 builders and in 2 months 85! sirQus was very active advertising the city around Alphaworld. Also some of his early AW friends were spreading the word about Horizon City. As the city grew sirQus met interesting people. Some who were very committed building there got their own section from city to run. First city staff members were KraemerG, Q iamai, Brody and Kenny McC. KraemerG's area was in southwest, Q iamai's in southeast and Brody's in north from the city GZ. Kenny McC helped Q iamai in her section.
Growing
Because of the success of the city some people nominated sirQus for CyAwards in category of Best Community or Town. Surprisingly Horizon City won the April 2000 Cy Award, only 4 months after the city was founded. It was great achievement for entire town and its staff as there was many active towns in Alphaworld that time, such as Rtown, Kalaville, GooberTown and SW City. Not all of Horizon City staff were happy as they felt that only sirQus was awarded and not the entire staff. That caused some members to lose some of their interest towards the city. Brody's citizenship expired and Q iamai and Kenny McC (later Kenny McQ) became more absent and it was known that they had real life relationship.
While the city was growing and getting more popular, September 2000 someone hacked Alphaworld's ED password and deleted AWGZ and Horizon City GZ. Lost structures were fixed by AWI. The same month, city core staff decided to purchase a citizenship for building as team under one builder name. Horizon City account was purchased and large areas of land covered for future projects with that account. New public building areas were opened, Horizon North area was founded and monorail system expanded. First beltway around the city was built. Late 2000 there was over 170 builders in the city. Horizon City claimed to be the largest town in Alphaworld as it already covered huge areas with hundreds of builds. SW City was also developing fast and they claimed to be the largest town too. The situation was a great source of many jokes.
Second beltway was built by October 2001 and in November 2001 a citizen called bluebean was invited to be member of the city staff. He started to build his sector in Horizon City south/southeast area. Next to his area, new Art Deco -themed build area called Vertu Beach was founded. The third beltway around Horizon City, going 2500 coords away from the city GZ was finished in January 2002. Q iamai and Kenny McQ were not seen in AW anymore and their citizenships expired by April 2002. SirQus, KraemerG and bluebean continued building, forming a new Core Staff of Horizon City. It was a time of many building projects. Citizen Shorty joined city staff as new building areas were opened. There was a big rush of new builders in July 2002. An inter-city river project known as the Besburn River was begun between Horizon and SW Cities in October 2002. In 2003, KraemerG and sirQus continued expanding Horizon City Airport—a project they had started in February 2001.
Post-Price Hike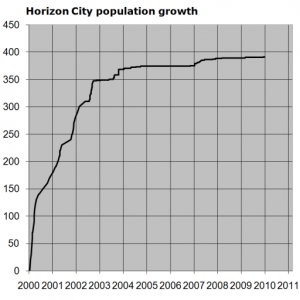 The city was active to 2004 and occasionally after that too. Horizon City citizenship expired and core members were busy in other projects and in real life issues. The city GZ was kept updated by Sirqus, but there was no new builders for 770 days, which is a long time in AW universe. By 2006 the citizenships of KraemerG and Sirqus were expired and city was not built for a time.
In late 2006 Sirqus renewed his citizenship and continued to build the city. Early 2007 KraemerG renewed too. The city building account, Horizon City citizenship, was renewed in April. The building account allowed city staff to continue previous projects and to build in areas that were earlier covered with that citizenship. It also allowed to use better areas for public building.
Late 2007 citizen Roska joined to build modern Japanese themed town called Mini Fukuoka. Sirqus also introduced a then new way to build terrain landscapes with xiggy4.rwx-objects near that area. November 2008 Horizon City was awarded second time with the Best Community or Town Cy Award making the city to be the only city in Activeworlds which has won the Best Community award two times.
After 10:th anniversary of the city, January 2010, a fictional lore was brainstormed by Seiya and Sirqus.
The city is now maintained by SirQus, who posts occasional thoughts and updates on his blog.
Hall of Fame
The following users have been inducted into the Horizon City Hall of Fame by Sirqus.
| Member | Reason |
| --- | --- |
| KraemerG | Long term core member and the first subcommunity leader |
| bluebean | Long term core member and subcommunity leader |
| Q iamai | Long term core member and one of the first subcommunity leaders |
| Partymaster | Long term Tech service provider |
| Dieter | First area manager and supporter |
| Kenny McC | Long term core member |
| Brody | One of the first subcommunity leaders |
| Roska | Long term builder, developer and staff member |
List of Horizon City Builders
The following list displays the names that the builders used at the moment when they first time built in the city.
External links