GateNetwork Bot
From ActiveWiki
GateNetwork Bot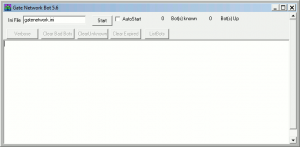 Teleportation network
Creator(s)
License

Closed

Price

$5

First release

3.11

Downloads

Always scan downloaded files before attempting to open

3.x

4.6a GUI

4.x

5.5

5.x

5.6

Website
GateNetwork Bot is a bot designed by Andras that was commissioned by Matt888 to create a teleportation network in the Active Worlds Universe. This teleportation network takes the form of a series of Stargates, modeled after the popular television series, which require you to dial the correct sequence on a panel in front of the Stargate. Once the sequence is dialed an animation sequence begins in the Stargate which allows the user to enter and they are then teleported to their desired location. This is a commercial bot which requires bot owners to pay a $5 (USD) licensing fee. A free trial, explained in detail below, is also available.
Obtaining a stargate
Previously, Matt888 was the caretaker of the stargate network. However as he has since left Active Worlds, Red Sorceress has taken over by providing her own stargate object set and assistance in setting up a gate.[World]] owners that desire a Stargate can obtain one from Red Sorceress. The bot files and license will first have to be obtained here. Please keep in mind that if you intend for your Stargate stay on the Stargate Network for more than the limited "free trial" of five minutes, you will need to pay the $5 licensing fee. If there is not a present, and valid, license found by the bot, individual sessions can only be created for five minutes. After the five minute trial is up, the bot logs itself out of the Network, and, subsequentially, out of Active Worlds. Once that is complete, a readme file detailing how to configure the .ini file, licensing information, and objects can be found hereWM.
Known worlds
The following worlds are known to have had a Stargate at one point in time:
External links