Fedroad 1
From ActiveWiki
Fedroad 1
Part of the
Sedan's Road System
Built/maintained By:
Nyxboy, RTDNL
Other name(s):
Fed1, Freeway 1
Formed:
2006-
under construction
Lenght:
~1,300m(130cells)
South end:
Naya Island,
Route 2
Junctions:
NL-110
NL-210
NL-20
North end:
Sedan north boundaries
Fict.Panala
Sedan Freeway System
Fed-1 • NL-10 • NL-20 • NL-110 • NL-210
This article is about the freeway network in the world of Sedan
The Fedroad 1, or Fed 1, or simply the 1, is a national freeway in the world of Sedan. Its construction started in 2006, Sedan first year since its foundation, and is the only national freeway passing through the city of Sedan from north to south in its eastern area. The Fedroad 1 is also renowned for being the world largest freeway, being partially up to 6 lanes wide in each directions.
Route description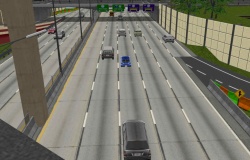 Within Sedan
Fedroad 1 begins at Naya Island where it connects with Route 2. The freeway then runs along the Sedan International Airport's peninsula until it reaches the northern districts of Sedan of North Paya and East Industrial of which it marks their boundaries by passing between them until leaving city's territory through a dual tunnel accross the northeastern mountains to join the inner valleys.
Fictional Route
The fedroad 1 route then passes through the inner valleys of Nuwa Lueza towards north to join the Taluwah Island on which it passes until it reaches the Capital Area city of Panala.
History
The Fedroad 1 is one of the four freeways in Sedan that has been planned in the first road network planning not long after the foundation of Sedan in 2006. The construction of the freeway also started in the same period along the west shore of the Sedan International Airport's peninsula.
1/20 Junction Interchange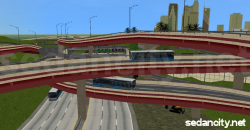 The currently nicknamed 1/20 Junction Interchange, is a major directional T interchange, also the largest interchange in Sedan, linking the Fedroad 1, the NL20 City Bypass Freeway, indirectly the NL210 Transbay Freeway and the Sedan International Airport.
The interchange is built beyond the Fedroad 1 in the northeastern area of the city and is considered to be one of Sedan's largest builts once completed. Though some ramps of the interchange are currently operational, some are remaining uncomplete and are still waiting for their custom peaces to be designed and installed.
Exit list
City
District
m
#
Destinations
Notes
Sedan
Naya Island
0
west - Naya Island
Southbound exit and northbound entrance
Airport Peninsula
west
Southbound exit only
Paya
west
Southbound exit only
west
Southbound and northbound exit
North Paya
-
-
North Paya shopping outlet
(planned) Southbound only
East Industrial District
Sedan International Airport
Northbound exit only
East Industrial District
Northbound exit only
See also