Daliaxy
From ActiveWiki
| | | |
| --- | --- | --- |
| | Daliaxy | |

— City —

The Stone Watcher City

Flag
Emblem
Community of Newfoundland
Location
City GZ: 34n 38e
Status
Defunct
Type
Historic-City
Population
5 (2002-2003) Now uninhabited
Founded
October, 2002
(Deleted spring 2003)
Leader(s)
Nyxboy (Then named as Nyx)





Daliaxy, also called Daliaxy CT, was a very influencing metropolitan city founded and built by Nyxboy, then named Nyx, in the galaxy of Newfoundland. The city was deleted 10 months after its foundation when the galaxy had a general reset.
Daliaxy was notable for its high density and its subway network. It was at first only a project to build a financial district in NFL. It is later that Nyx decided to give Daliaxy the title of City.
Some companies in Daliaxy included NFL Bank, Air Daliaxy, Interworld(still in use in Neophyx), Logitel(Taken from Sokiland and still in use in Neophyx City), CND(news channel and DTV(main tv channel).
The Stone Watcher, Daliaxy's tallest skyscraper, had been rebuilt in Neophyx to commemorate the city.
History
Foundation 2002
The city of Daliaxy has been first founded as a commercial territory, or business district, in October of 2002 in the galaxy of Newfoundland. Facing the rapid growth of the territory, the CT of Daliaxy received the official title of city.
Deletion 2003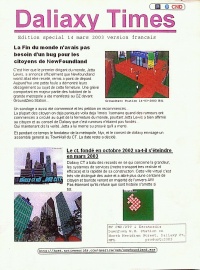 In early 2003, rumors of a planned deletion of the galaxy as it was started to be spread among the local and the city communities and caused an important wave of panique.
The owner of Newfoundland, Jetta Lewis, responded in an official declaration, stating that he had no such intentions. This response alongside the lack of sources calmed progressively the atmosphere among the public.
During spring of the same year, rumors about an upcoming deletion resurfaced again among the people of Newfoundland. This time, it has been with people's stupefaction that Jetta officially declared that the galaxy would in fact undergo an eminent general reset.
The reaction from the public has been relatively intense, expressing their opposition to Jetta's decision. In the period that followed, several manifestations and polls have been organized at the Ground Zero of NFL.
The deletion of the galaxy has been made in the weeks that followed, causing the deletion of Daliaxy as well. The motivations to reset the galaxy have been centered on the fact that it reached the state where the land was saturated and so that there were no more free spaces, or lots, available for new developments.
Some Caracteristics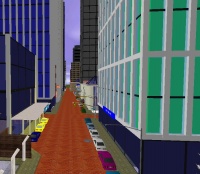 Back in 2002, Newfoundland was divided into lots by thin streets using floorXXh.rwx made of red bricks. Since it was not possible to build beyond a lot, the city armonised its streets by making all of them with the same red brick texture.
Transportation
An original picture of the Subway Network of Daliaxy from 2002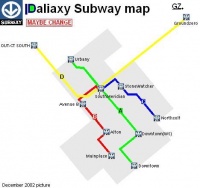 Picture Gallery
See also
BC/BCA - Nyxboy's urbanism firm that developed Daliaxy.
Nyxboy - Then, founder, mayor and developer of Daliaxy.
Sedan - A populated city from a tropical archipelago.
Sokiland - Nyxboy's first city built in Alphaworld.