Community Awards
From ActiveWiki
Cy Awards Ceremonies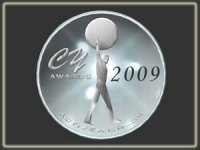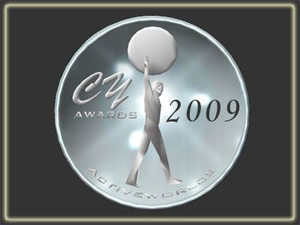 Community Awards is part of a series.
---
---
The Community Awards (often referred to as The Cy Awards) are the defining award in Active Worlds. Each year, citizens and tourists gather in the CYAwards world for a night of mystery and cheer, awaiting who will receive that year's CY Awards in a number of broad-range categories. The Cy Awards are easily the most anticipated event of the year among the Active Worlds community, and as of late the ceremonies typically set the annual record for most simultaneous users in the universe.
The most recent Community Awards were held on November 14, 2009.
About
Founded by AlphaBit Phalpha in May 1998, it is one of the longest running events in any 3D environment. The awards were originally held in former community world AWCC, eventually gaining their own world in time for the eighth ceremony. During the past decade, the Community Awards have honored the best of the best by allowing citizens to nominate and vote for what represents Active Worlds in the greatest light. The event has grown into a new world with a nominating and voting system that represents the fairest possible method. The event is held each November before Thanksgiving. All citizens and tourists are invited to attend the several events leading up to the ceremony including the Cy Ball, and, of course, the awards themselves.
Founder AlphaBit Phalpha retired from the Community Awards team in 2002, giving control to Mountain Myst. That same year, AlphaBit Phalpha was given a Lifetime Achievement Award for her efforts during previous ceremonies. Originally, the event was held multiple times a year, but was streamlined to one single year in 2001.
In 2005, in an effort to save the Community Awards from being retired, Lady TeaL took control from Mountain Myst, and has hosted the event since.
Lifetime Achievement Awards
Lifetime Achievement Awards are among the most coveted of awards given out at the ceremonies, awarded to users who have made lasting impact on the Active Worlds Universe. Since its inception, Lifetime Achievement Awards have been given to LittleBull, Roland, Dataman, Lara, Protagonist, AlphaBit Phalpha, grover, Bille, Real Pops, Andras, BinaryBud, XelaG, Magine, DMC2U, dreamer2, tunablues, Lensman, SW Comit, Tengel, Jetta Lewis, Mauz, Ima Genius, chrispeg, Syntax, SW Chris, Strike Rapier (Mark Randall), and Garnet.
Awards Ceremonies
Since 2001, ceremonies have been held yearly. The most ceremonies held in a single year was 1999, with 3 ceremonies. 2003 and 2005 were both skipped due to complications within the Cy Awards leadership.
External Links