COFMeta
From ActiveWiki
COFMeta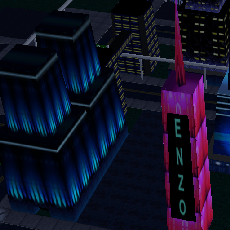 World of Active Worlds
Owner(s)

Founder AWI

Founded

?

Configuration

P1100 N,W,S,E ? Users

Rating

G

Running?

✓

Website
Metatropolis is a public building world owned by AWI. COFMeta stands for Circle of Fire Metatropolis. The world is heavily influenced by the novel Snow Crash by Neal Stephenson, which describes a large and heavily populated Metaverse. Although Metatropolis doesn't have the bustling population of the Metaverse, it does feature some notable locations from it, including "The Street" and the Black Sun lounge.
Smile, E N Z O loves you! ;)
History
COFMeta was created in 1996 by Circle of Fire, now known as Active Worlds, Inc. Metatropolis today is a sparsely populated world, with builders and visitors few in numbers. The world did once have a thriving community, though, and even its own EZBoard community.
Notable Locations
Ground Zero :: 0N 0E :: Metatropolis' Ground Zero area was created by Circle of Fire, and has several features, including the Black Sun, and a teleport center.
Object Yard :: 50S 5E 90 :: COFMeta's primary object yard, containing useful objects for builders to get started. An outdated listing of objects and textures on the object path may be found here.
Teleport Center :: 16S 0E :: A large teleport center with many city and event listings for COFMeta. Mostly outdated.
Games
Global Biomechanic Consortium :: 129S 199E 280 :: The Global Biomechanic Consortium was an interactive game built by Rhedd in 1999.
Towns and Communities
External links