Central District (Municipal District of Sedan)
From ActiveWiki
Central District
Municipal District of Sedan
Class
Financial
Incorporated
February 15th 2006
Postal Coords
60S25W to 19S25E
Phone Area Code(s)

60,61
Road Access
NL-10
NL-210

The Central District is a municipal district in the city of Sedan. It is the economic center of the city where it plays the role of Downtown or CBD and differs from all the other districts by having most of Sedan's high rise skyscrapers and for being majoritarily financial and commercial while most of the city is limited to low height builds.
Headquarters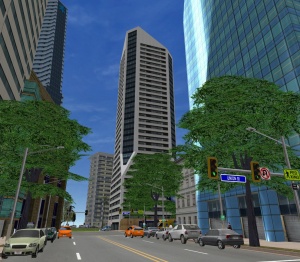 The Central District is home to most of the world's companies headquarters like Nuwatel, UI Bank, Nuib and JVP Development to only name a few.
Major road access
Freeway
Other Important Roads
Bridge Street
Albizia Blvd
Park Avenue
Ashfax Blvd/Route 505
Union Street
Commonwealth Street
Ocean View Rd/Route 2
Phone Area Codes
According to Sedan's fictional numbering plan, the district has 2 area codes exclusively for itself. Being 60 and 61.
See also
Article tag