Birthday Complex
From ActiveWiki
Birthday Complex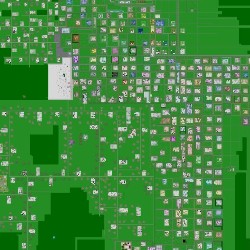 The Birthday Complex, also known as the birthday builds, is arguably the longest continually run builder's community in Active Worlds with some builders working continuously on them from its beginning in 1998. It is a massive, cohesive grid of builds celebrating birthdays in Alphaworld. The size of the region rivals other large areas in the world, including SW City and Horizon City.
History
The birthday complex was founded as a centralized region for birthday builds, a type of building that had become a custom for AW users to make for birthdays in the late 1990s. Usually organized in a grid, these builds would consist of cards, well wishes, and other gifts made by various users. As noted by Dreamer2, the practice was born out of friends giving cards to each other. "Circles of friends making them for their particular circle and expanded from there. And the practice of leaving a card - started - before actual builds."
The Birthday Builds received a Cy Award in the 2009 Cy Awards in the Write-In category under the leadership of NurseMom.
Composition
Birthday Complex Layout
The birthday complex covers a large swath of land in a grid format. The individual birthday build sites are organized into standard 5x5 plots, and form a larger grid for a single site. The combined sites form a very large grid that is visible from the map view.
Birthday Teleport Yards
See also
External links