America
From ActiveWiki
| | | |
| --- | --- | --- |
| |    America  | |

— World —
Seal

World of Active Worlds
Capital
GZ Island
Largest city
Neophyx City
Administration
Owner(s)
AWI


Founder

Jetta Lewis
Caretaker(s)
Ciena
General Information
Size
P-500
Founded
Unknown
Class
Public Building World
Theme(s)
Multiple themes


America is a large public world, founded by Jetta Lewis and owned by AWI, lying on a mainland United States shaped land. The world is notable for its mutiple themed buildings and for having one of the best variety of objects in the Activeworlds universe.
America Members
Caretakers
Builders
-Xena
Buildings and Themed Sections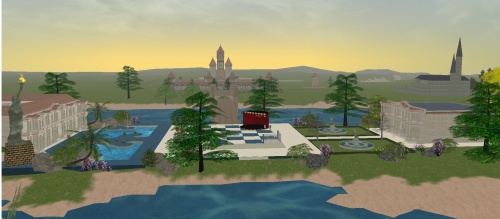 Borg Attack
Jahara Palace
Jeckyll Island Hotel - Built by Ciena
Alcatraz
Safari Outfitters & Semi-Adventure Club
Daktari Animal Compound
Topiary Gardens
Off World & Off World Colony America

Haunted Castle
Underwater cave & pirates cove
AQUARIUM - Built by Ciena
Snob Hill Mansions
Egypt
AMUSEMENT PARK
Neophyx City - Built by John Mayor
Doodles

Wilderness Hunting Lodge
Area 51
Kong Island
Indian Village
Bible Stories
Romantic Fantasy
America Mall
Old English Pub

America Raceway - Built by MC RIDER
Motorcycle Gallery
Jurassic park
African Aviary
Tropical Resort Islands
The Old West
Memorial Gardens
American Wilderness

Old Rome
Alien Nation
MONASTERY
THE GATEWAY
Christmas Land
Halloween
AMERICA'S ZOO
Incline Village

Enchanted Garden
Sculptures
Rivendell Castle
1800's Seaport
Hillbilly Bayou
African lost Palace Resort
Medieval Castle
50's Town
Neophyx City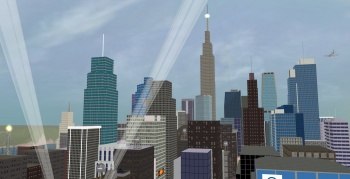 Founded by John Mayor on October 2003, Neophyx City is the urban themed sector of America and is one of the denses built area in AW.
Transportation
Freeway Network of America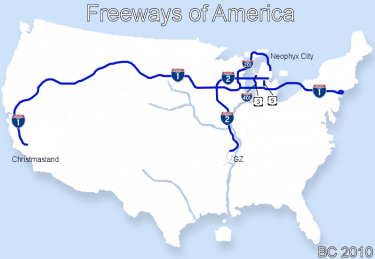 America currently has a developed freeway network built and created by John Mayor as an effort to incorporate modern road infrastructures in the world to facilitate transportation via movers. The transportation infrastructures of America has undergone several reforms in order to modernize it. In 2010, Amworld Transport has implemented a road signage standard on every of the roads and freeways under its juridiction. Prior to 2010, the signage in America has been left for many years without any regulation or standard. This has resulted in a poor quality of sign designs and indications that tended to cause confusions among the road users.
The America Department of Transportation is the official agency in charge of the national road network.
List of freeways in the world of America
| | | | | |
| --- | --- | --- | --- | --- |
| Identification | Name | Route | Length | Construction |
| | Liberty Freeway | GZ to Eastview-Neophyx City at Nelson Blvd | 2,360m(236cells) | Jan - Aug 2006 |
| | Transamerica Freeway | West Coast - Christmas Land to East Coast Vista loop | ~13,000m(1,300cells) | Oct 2006 - Apr 2009 |
| | Neophyx Freeway | Transamerica I-1 to Downtown Neophyx | Unknown | 2009 - Unknown |
| | Jetta Lewis Memorial Freeway | Southern suburbs to Emedian Bay | Unknown | 2013 - Unknown |
| | Expressway 3 | Transamerica at Victoria Bridge I-1 to Liberty Bridge I-2 | 470m(47cells) | 2006 |
| | Expressway 5 | Victoria Blvd to Downtown Neophyx 6th St | 300m(30cells) | 2003 |
The Transamerica Freeway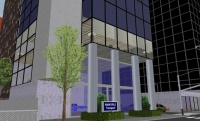 The Transamerica Freeway is the longest road of America. Built by John Mayor, the freeway crosses entirely the northern part of the world of America from the west coast at ChristmasLand all the way to the east coast passing through the inner northern regions of the world. The project has been planned and built with Mayor's company BC firm and is managed by the Amworld Transport Office located in Neophyx City at 124n 205e.
Picture Gallery
See also