Alphaworld Enhanced
From ActiveWiki
Alphaworld Enhanced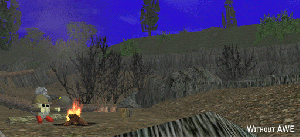 Content enhancement
Creator(s)
License

N/A

Price

Free

Downloads

Always scan downloaded files before attempting to open

Website
Alphaworld Enhanced, or AWE, is a graphic-enhancement modification for Active Worlds, intended for use in Alphaworld. The mod, created by SW Comit, has received a Cy Award for Best Software, and a Support AW Award for innovative technology, both in 2006.
Overview
Alphaworld Enhanced greatly modifies a users visual experience in Alphaworld. Textures are modified for increased resolution, and certain textures, such as grassy textures, are edited to hide the tiling effect noticeable without AWE. Some textures have been completely replaced with more lifelike textures. Objects are modified to increase the frame rate in a congested area by removing unnecessary data from the object. Additional avatars are also available, with more gestures on each avatar.
The ground object and sky are also modified, replaced with a cleaner ground object and skybox respectively. The teleport and warp sound effects can also be muted through the modification.
Every enhancement made can easily be removed during the installation process.
See also