AlphaWorld
From ActiveWiki
AlphaWorld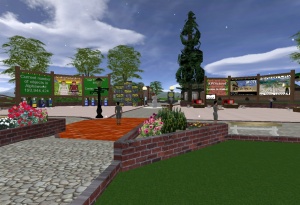 World of Active Worlds
Owner(s)
Founded

1995

Configuration

P32750 N,W,S,E ? Users

Rating

PG

Running?

✓

Website
AlphaWorld is the flagship world of the Active Worlds universe. It is also the largest in existence. Before the creation of AWGate, AlphaWorld was the "main" world in which all citizens would arrive and was for a time the only world available. There are at least fifteen major cities and four fictional nations.
Consisting of over 238,500,000 objects in a land area equivalent to over 165,647 square miles(approximately 406 miles across), AlphaWorld is seemingly endless. To see everything in this world, which is larger than the U.S. State of California, would be a colossal undertaking.
History
AlphaWorld was opened in 1995 with the release of Active Worlds, the software itself was also called AlphaWorld at first. It was the one and only public building world for some time until others such as Colony, Winter and Yellow came in the picture.
Since inception, AlphaWorld's object path had been updated with more modern objects. More notably, 2004 saw the addition of new detailed 3D trees and media object for the then-new media command. In 2006, over 300 new primitives by SW Comit and Syntax were added. In February 2008, more updates included flats and walls primitive sets.
AlphaWorld itself saw a resurgence in updates and maintenance during Flagg's tenure at AWI from 2006-2011. An Eclipse Evolution bot had been installed in global mode to provide a world chat channel, as well as jump point teleportation shortcuts, which has since been taken down.
Tourists were also given building rights in AlphaWorld for the first time.
In June 2011, v4 building rights were made available for all users, including tourists. This move was made as a progression of v4 rights bot that initially gave v4 rights to users who had earned them through special building competitions. Since then, v4 has been disabled for tourists.
Community
Alphaworld has a small but diverse community of citizens and builders who have different goals and reasons for residing primarily within Alphaworld. Most existing Alphaworld groups are there because of their long historical presence in the world, but several individuals and groups take advantage of the limited nature of Alphaworld's object path and building rights to create a challenging and unique building environment.
Community Structures
Cities
Given to Alphaworld's large size, most users see it as a canvas of many small communities instead of a large, centralized community. As such, many cities have been built in Alphaworld—small, independent communities with localized leadership. The largest of these cities -- SW City and Horizon City—are host to hundreds of builders, thousands of visitors and participants, and are large enough to influence the "culture" of communities that have decided to settle nearby. For example, many small cities near SW City tend to participate and share in the lore and background that been created for SW City, oftentimes borrowing characters and ideas from the city itself.
The lifespan of cities varies depending on the leadership and circumstances of the city itself, but very few manage to survive beyond a few months. The few that do often experience continued maintenance of their popular areas (ground zeroes) over many months or even years.
Events
Event-related builds are another popular structure, where a community will make a collection of builds for a given event. Birthday complexes are a popular example of this sort of structure. Once the event has been completed, these builds are not usually maintained, but instead archived at a central yard or location.
AlphaMapper
A map utilizing the Google Maps API is available which details the entire world at the AlphaMapper website. The map is rendered entirely in 3D, which is noticeable when viewing large mountains or towers as a shadow is present.
Notable Locations
External links
nl:Alphaworld