Aeon
From ActiveWiki
Aeon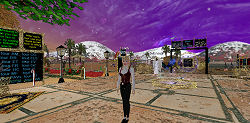 Aeon was a P50 *fantasy world* owned by Lady NightHawk (351831) and AerHawk (352682). The world was established on June 11, 2003 initially as a Bingo win trial world (P20), after the two month trial period was over LNH paid for the world for which she was then *hooked* and upgraded it to a P30. We've now upgraded the world (2006) to a P50 so we have room to grow. Aeon is an intensely built world so if you visit be sure to give yourself ample load time!
We are "tourist" enabled and allows PAVs ( Personal Avatars ), voice chat, and we have kewl movers. Some of the movers you might find in your travels are butterflies, dwagons, unipegs (unicorn/unipeg), motorcycles, seadoos, etc. Sorry, we don't allow public building.
Aeon participates in the Multi-World Egg Hunt and the Multi-World XMAS Hunt so be sure to stop in for those events ... again, give yourself ample time to load.
Lady NightHawk (LNH) is co-owner of SistaAVs, a unique line of human (and humanoid) avatars made by Lady NightHawk & Lady HardDriven (the sistas). Stop by Aeon, Anduin &/or SistaAVs worlds to view our avatars & PAVs! Feel free to try on the avatars/PAVs from the Avatar menu (sorry tourists, citizen only feature).
Be sure to visit Lady NightHawk's other wiki pages! :o}