AccuTrans 3D
From ActiveWiki
AccuTrans 3D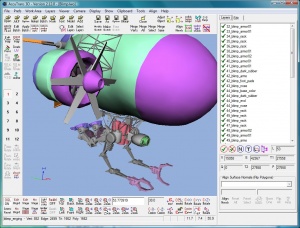 General utility
Creator(s)

Wayne Hogue

License

Shareware

Price

$20 Unlimited free trial

Downloads

Always scan downloaded files before attempting to open

Website
AccuTrans 3D is a versatile 3d editor primarily used by object designers for tasks such as converting files into the Renderware file format for use in Active Worlds. AccuTrans 3D is also a very useful tool in the creation of avatars, as well as for scaling objects down (usually) for the Active Worlds environment. This program is not free, but has a full featured trial with no set time limit.
Features
Convert files between a wide range of different file formats.
Quickly re-work objects, regrouping and removing polygons as required.
Apply textures and UV mapping to plain objects.
Scale objects to any size.
Combine triangles into quads, or split polygons into triangles.
Accurately and quickly count the number of polys, quads and triangles.
Work with multiple objects at once, loading each into its own
Create and test animation sequences for classic avatars.
Trial terms
Although the full version of AccuTrans 3D is free for download, continued usage is not. A single license with free future upgrades costs $20, otherwise:
The software available for download is the fully working version and not a demo version.
The user is allowed one trial period of 30 days.
By downloading the software, the user agrees to either pay the license fee or delete all copies of the program that are in their possession at the end of the trial period.
The program is fully working for both read and write operations. The program does not drop every Nth polygon, use copy protection or a security module or nag screens or disable write operations or deactivate itself after a fixed number of tries or days.
External links