AWGate
From ActiveWiki
AWGate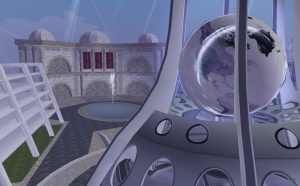 World of Active Worlds
Owner(s)
Founded

1995

Configuration

P50 N,W,S,E ? Users

Rating

G

Running?

✓

Website
AWGate is the default entry world for the Active Worlds Universe, which is where all new users start. It is designed to showcase the newest features of the Active Worlds browser and provide a handful of different theme-based areas, each of which provides teleports to other worlds.
Gatekeepers reside in the AWGate, and provide assistance to new users as well as welcoming them to Active Worlds.
A new version of the AWGate, designed by Stacee and Oleyo, was released with Active Worlds 5.0.
Atmosphere
AWGate is well known throughout the universe as being the default world to visit if you're looking for general chat. The confined space of the world, combined with the activities of general interest available encourage users to idle around. Many users are also affectionate of particular avatars AWGate features, such as the popular Bunny suits.