6.2
From ActiveWiki
6.2
Build 1400
Release date

Nov 10, 2014

Developers

AWI Chris

New features
Chronology
Previous
6.1
Next
7.0
Welcome to Active Worlds 3D Essential VR
Version 6.2 continues the v6.1 success story, advances its modular structures and embeds a single web browser.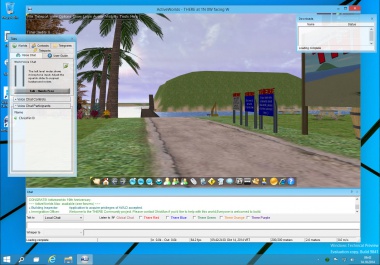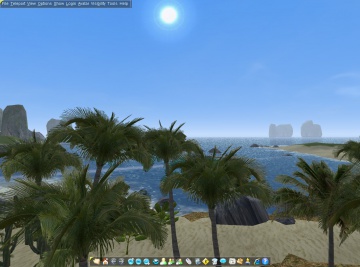 Quick Links

More Highlights of v6
Build 1432
6 May 2015

Added the special keyword off' to be used for a texture name or for a picture url unloading the previously applied image and reloading the instance of the model with it's initial textures or other eventually applied images.
Allow picture commands triggered by timers, potential lag bombs as other texture modifying timers.
Build 1431
4 May 2015

Any explicit timer limits, introduced in build 1430, were removed since it broke too many existing builds.
Build 1430
4 May 2015

Prevent running out of system memory on 32 bit systems and 64 bit systems without PAE (Physical Address Extension), to ensure the software runs on older, and non-gamer hardware, as well on mobile devices with limited resources.
Timers now have a minimum duration of 1 second and timer-triggers have a minimum interval of 100 ms applied strictly. An attempt to help users and builders not running into heavy lag bombs in worlds.
The sound and noise commands are now played by the external media addon process, rather than by the main application's process, helping to reduce overall resource usage of the main application. The audio volume slider for media now is the master volume for all sound and noise effects played in world as well. Built-in sound effects, like telegram-alerts or building-sound-effects, remain part of the main application process.
Playback caused by noise action commands now get cancelled / stopped, when the object that took the command falls out of visible range - since the command has been used to play music, rather than the intended use for shorter sound-effects only.
Build 1428-1429
30 April 2015

Added detail alpha-check to PNG and GIF images. Since these formats are widely used in 32 bit pixel depth, but for 24 bit content, verify the need of the alpha channel, drop transparency if not used.
Added automated system report generation. Opens the ActiveWorlds installation folder, selects files to attach, and eventually attach the files to a support request when asked for. Accessible via Menu:Help, and/or Shift+AltGr+R (or Shift+Ctrl+Alt+R) from the login dialog and the running app.
Build 1427
27 April 2015

Added low-end ocean shader render, limited to 65535 vertices and using a static cubemap.
NVIDIA set high power preference: if you have the power, use it!
Build 1425-1426
23 April 2015

Added customization options, i.e. to prevent user initiated closure of docking windows.
Embedded web interface extended for future features.
Updated VLC / SDK to v2.2.1.
Build 1424
19 April 2015

Improved OP download performance; increased concurrency count of HTTP downloads of world content.
Windows 10 : hidden resize borders considered; remaining backward compatibility to Windows Vista and Wine.
Build 1420-1422
27 February 2015 - mandatory

Certain combinations of actions within a trigger may have failed, if the current object was already deleted by a previous action of the same trigger. i.e. when a teleport action is executed the current object may be already out of range, when a following action of the same trigger would attempt to modify the current object, element or model.
Fixed teleport-back history.
Fixed bump teleport issues.
Updated Mac installation packages to Wine for Mac 1.7.37.
Build 1419
23 February 2015

Added more customization options.
Build 1418
18 February 2015

Updated French message file, contributed by Arsène.
Simplified chat muting for built-in chat. Exclusively use 'Mute on sight' settings if the according contact entry exists, and 'Mute' for all other users: dropped dependency of per-session-mute and per-contact-mute.
Built-in chat: PS are excluded from any mute list, unless the world-right is set to apply PS to everyone.
Prepare auto-update routines for 6.3 and various upcoming customization options.
Build 1417
24 January 2015

Added support for Windows NT kernel 10.x.
Build 1416
16 January 2015

Forced update to move universes from Hostway to Amazon.
Build 1415
12 January 2015

Ensure connection to presentation server is only established when valid and ensure connection gets closed when not needed.
Omit flickering (no redraw) when hovering mouse over chat console window.
Deselect chat text, when last line is visible and console window loses focus.
Added 'new messages since scroll back' IO message displayed on SDK based chat relays, previously built in chat only.
Enable chat text selection in reverse order, from right to left.
Build 1414
8 January 2015 Internal
10 January 2015 Release

EDU customization, including UI settings not to store login and privilege info.
Fixed telegram list sporadically disappearing when only a few teles are on the list, when no scrollbars are needed, and Aero theme is not enabled.
Ensure auto world re-connection whenever the connection to the world server gets interrupted.
Mac OS-X: create the screenshots folder and a symbolic link to User Home on application launch.
Mac OS-X: update to most recent Wine 1.7.33.
Mac OS-X: new installer including all of above.
Build 1413 Internal
5 January 2015

Fixed cache management. Time display and verification failed since VC12 on 64bit timestamps.
Redesigned cache management dialog.
Increased font for popup menus to the match the font sizes of rest of the UI better and made them DPI dependent.
Updated VLC API to its latest maintenance release.
Build 1412
26 December 2014

Framework for User Giude based on AW-Wiki articles.
Simplified UI design for User Guide tree-view.
Omit several contact options for offline users, not applicable to offline state.
Removed test options from web.
Improved HTTP(S) access on Mac and Linux by decreasing the count of simultaneous HTTP requests of in-world items (non-web).
Build 1411
20 December 2014

Making changes of build 1410a available to all.
Merge User and Remote columns on the world list.
Update CEF to 3.2171.1959 / 39.0.2171.95.
Internal: Servers update to VS2013.4/VC12
Build 1410a
18 December 2014

Bigger fonts for tabs and lists
Bigger size of fonts for chat, scaling with system DPI settings.
Added spellchecker support for Mac OS-X and Ubuntu/Linux
Moved default screenshots folder to the User Home directory ( ~/screenshots ) on Mac OS-X.
Updated Mac Installer to Wine 1.7.32 including various fixes primarily for Yosemite | OS-X 10.10.
Build 1410
15 December 2014

Added support for Mobile Touch Devices.
Adjusted various default setting to be used for touch/pen devices.
Adjusted activate/click to trigger on mouse/touch/pen up-event for smooth touch gesture detection.
Update CEF to 3.2171.1955 / 39.0.2171.65. Now built on Windows 8.1 PSDK.
Build 1409
3 December 2014 internal

Custom layout for AWEDU.
Ensure maximized window on initial installation.
Remove obsolete libraries from an existing installation previously needed by older builds and versions (patchw32, xmllite, etc).
Customized AWEDU version for Mac OS-X.
Build 1408
29 November 2014 internal

Additional default transparent toolbar design.
Enable 'Ignore pitch while flying/swimming', '3D Freelook Mouse' and 'Incognito Web browsing' by default.
Disable 'Fade in objects' by default.
Include the aworldMediaService process into the new application architecture.
Build 1407
23 November 2014

Toolbar icons line up better.
Added Look-Level to toolbar.cfg.
Modified object-change and object-delete to refer by ID, instead of cellX/cellZ/number to ensure unique objects in any case. It has another positive side effect that helps to take load off the server by accessing rows at of the database directly and faster.
Build 1406
22 November 2014

Fixed an issue with audio playback via sound/noise action commands for Mac
AW 6.2 Mac installer is available! On Mac OS-X 10.6.8 and later, please download and run the installer again, also to replace the previous version - it will take care to remove the old version during installation.
New toolbar icons.
Build 1404
20 November 2014

Apply VLC's http-continuous option to HTTPS and to .wav and .mp3 only.
Adjust size of web pages shown in the viewport window correctly, after drawing the close-button.
Apply overlapped style to web external views always, never keep them on top.
Decreased memory consumption during initial download of world content.
Build 1403
14 November 2014

Added an VLC option to .mp3 and .wav audio streams to keep stream over certain cloud'ed https servers.
Put the overlapped web window in foreground when activated in the taskbar.
Build 1402 beta
13 November 2014

Changed web settings options accordingly for CEF.
Added overlapped external web window capable handling AW specific javascripts and schemes.
Added aworld: scheme handling for backward compatibility of depreciated-tech concepts (will be removed finally as soon java scripting interface has been added) to CEF.
Removed test-options from context menu.
Build 1401 beta
11 November 2014

Fixed keyboard input not been accepted in docked web window.
Added teleport.cgi handling to CEF.
Translate the most common CEF net::error codes to readable text.
Build 1400 beta
10 November 2014

Introduction of CEF Chrome Embedded Framework replacing IE and Berkelium.
Windowed web browsing and pure off-screen web browsing on panels in-world.
Unit-tests and sample pages available via context menu in windowed web.
Developer tools temporary enabled for more detailed tests of web contents.
Beta tests on Windows XP SP3 up to Windows 10 and on Mac OS-X 10.6.8 up to OS-X 10.10.