3D Homepage
From ActiveWiki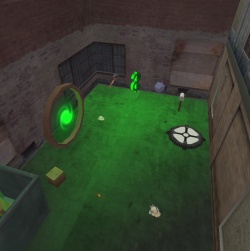 3D Homepages were an entry-level type of world offered by AWI. Introduced in September 2001 alongside 30-day citizenship trials, it allowed citizens their own small world with a pre-built template without having to learn to build, manage world settings or hosting.
Layout
3D home pages were offered via a now defunct web page where the user simply picked a name, a theme and its color scheme (if applicable). The world would automatically be created from a template world and hosted on AWI's servers. At the time, names were limited to 8 characters and could not begin with "AW".
Art and interactivity
All themes were created with objects and textures of a specific art style, notably of higher quality than that of AWI worlds such as Alphaworld and Yellow at the time. Homepages offered a detailed mix of both outdoor and indoor environments. Each theme also featured a liberal use of sound and interactivity, where objects such as boxes, water or pianos could be clicked to produce sound. Doors to certain areas could also be opened by activate or invisible bump triggers.
Objects with an off-center axis were used with rotate and move commands to make homepages look alive by emulating circling birds, swirling trash and falling leaves, for example. Objects also made extensive use of masked faux-shadows.
Control panel
Each theme would feature a "control panel" wherein users could:
Teleport to AWGate
Change the world to another theme
Purchase another 3D homepage
Enable build, as it was disabled by default for simplicity
Email the owner of the 3D homepage
Spawn an object with a web interface
Images and text
Much like a 2D HTML-based web page, 3D homepages allowed easy placement of text and images in prominent locations. Each theme contained sign and picture objects placed in certain locations, with a placeholder. When clicked, a web form allowed the owner to change the content without having to learn the syntax of the appropriate scripting command.
Avatars
Each theme contained a number of photo-realistic (or toony, in the case of the Toon theme) avatars to choose from. Each one was crafted specifically to that theme and included the two tourist choices.
Pricing
3D homepages were available in three pricing configurations. All included 24 hour hosting and a provided object path. Discounts of 3% and 6% were applied when paid for 6 months and 12 months, respectively. An additional $2 per month could be charged to allow tourist access.
3DH-5 - 5 Users 5 N,W,S,E - Free for 30 days (see below)
3DH-7 - 8 Users 7 N,W,S,E - $6.99 per month
3DH-10 - 12 Users 10 N,W,S,E - $9.95 per month
Trials
Each citizen was allowed a single 30 day trial period of a 3D homepage, with a 3DH-5 configuration and any theme allowed. The world could be renewed any time during the trial. The trial process went down with 3D homepages. Although they were re-opened in September 23rd, 2009, it has since been defunct.
Themes
Various themes were available to choose from. Most of their art content was publicly made available on the Megapath object path.
Image
Name
Description
Styles
DirtCity
An emulation of scenes from The Matrix film, it is a derelict street with litter swirling around. Various interiors correspond to scenes in the film with an interactive red and blue pill. Art assets not available in the MegaPath object path.
N/A
Atlantis
Underwater version of the Roman theme. Features a plaza partly buried in mounds and coral and an endless expanse of tall seagrass.

Green
Deep Blue
Golden
Deep Green
Stormy

Business
An indoor office environment with various rooms where images and documents could be put up.
Fantasy
Features a barn and a large house with old English fantasy style decor, such as swords and scrolls.
Contemporary
A typical American suburb featuring six houses with large gardens and a street. One house has a complete furnished interior.
Western
A wild west town featuring a bar, a jail and various shops.

Brown
Painted
Stucco
White

Roman
A large roman style plaza with a large decorated house.
Nature
Outdoor environment with detailed hill pieces, tents and unfurnished cabins.

Spring
Fall
Summer
Winter

Gallery
Indoor fancy gallery setting, designed to show off large images.
Sci-Fi
Science fiction environment with platforms and tubes between giant buildings and hover cabs flying by.
Egyptian
A small Egyptian walled village featuring shops and a giant pyramid with tunnels and a tomb.

Sandstone
Bloodstone
Golden
Limestone

Toon
A cartoon styled town featuring a mis-proportioned house and a skate park.

Yellow
Blue
Gingerbread
Black & White

Auditorium
Indoor auditorium layout with a large screen and static audience members. Used for demonstrations and presentations.
N/A
Classroom
Small indoor classroom setting with chairs, static audience members and a speaking podium. Used for classes.
N/A
External links