2009 Cy Awards
From ActiveWiki
Cy Awards Ceremonies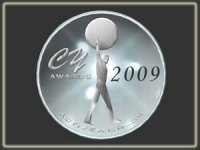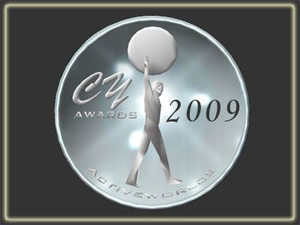 2009 Cy Awards is part of a series.
---
---
The 2009 Cy Awards is an awards ceremony that took place at 10pm VRT on November 14, 2009. The Cy Awards are held annually and are decided through community voting for the best entry in a number of specific topics.
The 2009 Cy Awards were MC'd by Lady Teal.
The Event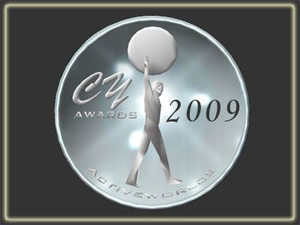 Nominations
Nominations took place from October 16 to the 26th on the Cy Awards Website. Users could submit their nomination for any specific topic through a form on the website, which were then processed for voting.
Rules
A number of rules were set in place for nominations, which are as follows:
1. All nominations must be active since the last ceremony or November of last year.
2. Everyone qualifies except those that won last year and cannot win again in the same category. Clarification all previous winners can be nominated with the exception of last year's winners in same category that they won.
3. Please take time when the nominations open to fill out the form correctly. We receive 1000s for all the categories and correct information assures that your nomination is accepted.
5. Only citizens are allowed to nominate and vote.
Categories
The categories available for nomination are as follows:
Best Build
Best Event
Best Leader
Best Software
Best Avatar
Best Community or Town
Best Interactive Game
Best Media Presentation
Best Website
Best Bot Design
Best Effect
Best Landscaping
Best Object Design
Best World
Write-in
Voting
Voting for the 2009 Cy Awards took place from November 1 through the 9th, and was held through a polling system on the Cy Awards Website.
Ceremony
The Cy Awards was held in their traditional location -- the amphitheater of CYAwards world. A crowd of over 100 users was in attendance, including AWI Staff Chrispeg. The ceremony was heavily promoted through the Universal Immigration Officer message, AWPortals, and by new social-networking means such as the SW City Facebook Group.
Awards
The winners of the 2009 Cy Awards were announced at the Awards Ceremony on Saturday Night. They are as follows:
Community Nominated
Best Build: TobyTaylor for Oriental Village
Best Event: Cy Awards - Lady Teal
Best Leader:: NurseMom
Best Software: DEM2rwx - Andras
Best Avatar: Flipz
Best Community or Town: Nurses - NurseMom
Best Interactive Game: AWBingo - DMC2U
Best Media Presentation: MaXPoly's MaX-Pro Systems
Best Website: ActiveWiki - Hyper Anthony, Martin, Syntax
Best Bot Design: Andras
Best Effect: Winter Mania Park Ride - Bach Zhaa and Dreamer2
Best Landscape: OhMy!!! - Ohioman
Best Object Design: Ohioman
Best World: OhMy!!! - Ohioman & AWMix07 - Class 3
Write In: Birthday Builds - NurseMom
Cy-Committee Nominated
Spirit Awards
Lifetime Achievement Awards
SW Chris
Strike Rapier (Mark Randall)
Garnet
External Links